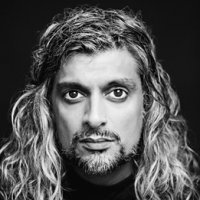 "The Lure of the Detour: five things that feed me plus the sixth that haunts them.
"(1) Silence: the body and the breath that haunts that house.
"(2) Sound: Alice Coltrane, Yoko Ono, David Lang, John Cage, Krishna Das.
"(3) Words, usually shattered. Books of poetry that will never leave me: Sappho's Gymnasium by Olga Broumas and T Begley, The Veiled Suite by Agha Shahid Ali, Arcady by Donald Revell, Good Woman: Poems and a Memoir 1969–1980 by Lucille Clifton, Selected Poems by Fanny Howe. Of course always Mahmoud Darwish. Always Jean Valentine.
"(4) Writers whose work provides a vibe for me—each time I read them I have to go write something: Bhanu Kapil, Nathalie Stephens, Richard Greenfield, Saskia Hamilton, Joshua Marie Wilkinson, Sarah Gambito.
"(5) Pictures: Agnes Martin, Makoto Fujimura, Zhao Wou-ki, Hans Hofmann, Layla Al-Attar.
"The life and the art and the death of Layla Al-Attar. Feeds me and haunts me. Every day."
—Kazim Ali, author of Bright Felon: Autobiography and Cities (Wesleyan University Press, 2009)