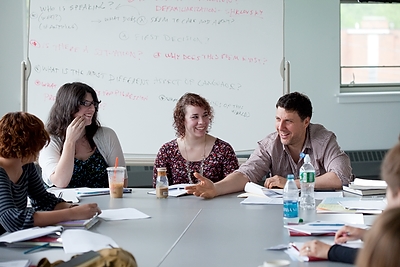 Financial Aid Application Deadline:
The Juniper Summer Writing Institute will be held from June 16 to June 22 on the University of Massachusetts campus in Amherst. The program features workshops in poetry, fiction, and creative nonfiction, as well as craft seminars, manuscript consultations, and readings. The faculty includes poets CAConrad, Ross Gay, and Dara Wier; fiction writers Noy Holland and Joy Williams; and creative nonfiction writer Mitchell S. Jackson. Poet and illustrator Bianca Stone will lead a Words and Pictures workshop. Visiting writers include poets Cameron Awkward-Rich, Khadijah Queen, and Ocean Vuong; fiction writers Gabriel Bump and LeAnne Howe; and creative nonfiction writer Jaquira Díaz. Tuition, which includes some meals, is $1,600. Manuscript consultations are available for an additional $300. Lodging ranges from $25 to $49 per night for a campus dorm room to $149 per night for a room at the campus hotel. Lodging at area hotels and inns is also available from $75 to $205 per night. Scholarships are available. Using the online application system, submit five pages of poetry or up to 10 pages of prose with a $40 application fee. General applications are accepted on a rolling basis; the deadline for scholarship applications is January 15. Visit the website for an application and complete guidelines.
Contact Information
Juniper Summer Writing Institute, University of Massachusetts, English Department, E354 South College, Amherst, MA 01003. (413) 545-5503. Betsy Wheeler, Managing Director.