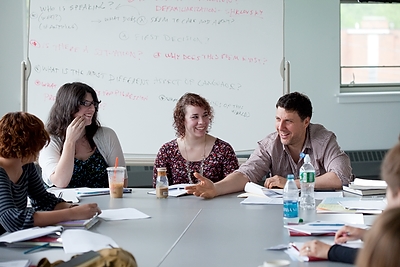 See writers who attended this retreat
Location:
Amherst, MA, United States
Financial Aid Application Deadline:
The Juniper Summer Writing Institute will be held from June 14 to June 20 on the University of Massachusetts campus in Amherst. The program features workshops in poetry, fiction, and creative nonfiction, as well as craft seminars, manuscript consultations, and readings. The faculty includes poets CAConrad, Khadijah Queen, and Dara Wier; fiction writers Stephen Graham Jones, Noy Holland, and Maaza Mengiste; and nonfiction writer Paul Lisicky. Visiting writers include poet Peter Gizzi and nonfiction writer Jaquira Díaz. Tuition, which includes some meals, is $1,700. Manuscript consultations are available for an additional $300. Lodging ranges from $25 to $50 per night for a campus dorm room to $159 per night for a room at the campus hotel. Lodging at area hotels and inns is also available from $75 to $205 per night. Scholarships are available. Using only the online application system, submit 5 pages of poetry or up to 10 pages of prose with a $40 application fee. General applications are accepted on a rolling basis; the deadline for scholarship applications is January 15. Visit the website for more information.
Accessibility accommodations include elevator access to all program spaces; accessible sideways, pathways, and doorways; accessible bathrooms and all-gender, single-occupancy bathrooms; "scent-safer" rooms and seating areas; accessible parking; asl interpretation by advance request; text copies of all talks; closed captioning for presented media; and signage in Braille throughout the space. Contact Betsy Wheeler, managing director, at ejwheele@umass.edu or (413) 545-5503 for additional accessibility details. 
Contact Information
Juniper Summer Writing Institute, University of Massachusetts, English Department, E354 South College, Amherst, MA 01003. (413) 545-5503. Betsy Wheeler, Managing Director.