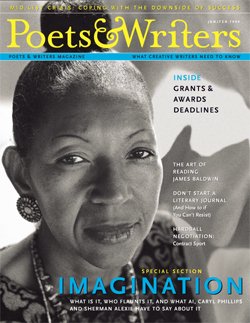 The poet Ai, who has often melded poetry with dramatic monologue—most recently in her collection Vice—makes a foray into fiction.
Buy This Issue
Features
Imaginative Empathy and the Poet Ai
This multiracial poet keeps homesteading new turf.
Fancydancer: A Profile of Sherman Alexie
A writer from Indian country takes the floor.
At Home in the World: A Profile of Caryl Phillips
Imagination is his passport.
Imagination
Being Is Imagining
Imagination, as defined by such writers as Joyce, O'Connor, and Coleridge.
Writing Across Boundaries
Do writers have the right to depict people radically different from themselves?
Monstrosities
Queer literature is revitalizing, and it doesn't have to be limited to gay writers.
Jewish Imagination Before and After the Holocaust
A historical look at Jewish literature.
How the Novel Imagines Us
The evolution of the novel from its nineteenth-century standard version to present.
News and Trends
Poets for Hire
Growing appreciation of poetry in corporations.
Financial Woes Close Journal
American Short Fiction journal closes its pages for good.
Writing the Waves
Bookworm, a nationally syndicated radio show about literary writing.
Reading by Numbers
How Amazon ranks every title sold.
The Practical Writer
So You Want to Start a Literary Magazine? Seven Steps to Lit-Mag Mania
Seven tips for starting a literary magazine.
Amy Holman's Tough-Love Guide to Publishing: Grants and Fellowships
Treat your writing as a profession so that others will take you seriously.
A Writer's Counsel: Contract Negotiation
An overview of important publishing contract terms.
The Literary Life
Mid-List Crisis
Lott muses on his success and failure; realizes that writing is its own reward.
The Art of Reading James Baldwin
Following James Baldwin's example: writing honestly and from experience.