In March Harcourt Brace will publish The Pearl of Kuwait, Tom Paine's debut novel about Cody Carmichael and Tommy Trang, two U.S. marines in the 1991 Gulf War. Paine's collection of stories, Scar Vegas, was a 2000 New York Times New and Notable book, a Barnes and Noble Discover Great New Writers selection, and a finalist for the Hemingway Foundation/PEN Award. A former marine, newspaper editor, and orderly in a mental hospital, he now teaches at Middlebury College in Vermont.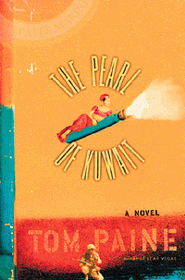 Poets & Writers Magazine asked Paine about his new book, and, given its topical subject matter, how he expects it will be received.
Tom Paine: Tommy Trang is a U.S. marine sent to fight in the Gulf War. Once he goes AWOL and busts into Kuwait to rescue a sixteen-year-old princess from the Iraqis and her impending arranged marriage to a Saudi Colonel, he finds himself unable to resist his own grandiose schemes. He wants to singlehandedly take down Saddam, bring democracy to the Arab locals, and rescue Muslim women from their own repressive culture.
You can read Trang as a patriotic fool or a knight in shining armor. But one thing is sure: Trang believes in the American Bill of Rights, and upholds them even though he's the progeny of war: His Vietnamese mother was raped by an American soldier. I hope it will be read and enjoyed as a picaresque adventure story. But the questions the book raises are as complex as the American desire to impose our system of government and culture on the rest of the world, and relevant if we head into Gulf War II.
(Did you just read that last line? I didn't write it. What a lot of crap. It's just a ripping story, the kind Defoe or Twain might have told. I didn't write that last line either. I'm just a humble writer, and just feel lucky to have published my first novel.)
P&W: American entanglement in repressive regimes was also a recurring theme in Scar Vegas, and yet many of the stories were very funny. In The Pearl of Kuwait, how did you maintain that balance between political consciousness and humor?
TP: The Pearl of Kuwait, according to my editor, is me "a mile wide and a mile deep." I hope she means that as a compliment, but I think her comment answers your question in a way. The humor, such as it is, was natural and instinctual. I didn't have to balance anything, I just hammered it out over three years as artfully as possible. (Scratch that: I really, really suffered in creating this novel.) Anyway, I suppose the real work was in twenty years of evolving into the sort of writer who could tap into what was natural. Same goes for the politics: Whatever politics are in this novel I didn't sweat, balance, or insert. I let the two young marines take over the novel as they kicked some Iraqi ass on the way to Kuwait to rescue the Muslim babe because my man Tommy Trang's balls were about to explode into blue flame.
(Ah, sorry, that wasn't me talking, that was the novel's narrator, Cody Carmichael. Anyway, I think the novel might displease those who are looking for a "political consciousness.")
P&W: Speaking of Cody Carmichael, how did you come up with his voice? Did you know from the beginning that a California surfer was going to narrate the novel?
TP: When the terrorist bombs went off in Kuta it was real personal and swamped me with rage. Surfers, seekers, beachbums, hippie-trailers, world explorers, mystics, tricksters, stoner outcasts-the murdered were from my hometown, so to speak. I set a story in my collection on Bali that kicks off in Kuta. And Cody Carmichael is from Huntington Beach, California, as was one of the American surfers killed, although it seems sort of wrong to mention the coincidence.
I have a real humble sense of "I" as a writer in a lot of ways. If you asked your average citizen to look at ten invented names on a page and asked them which one was glowing, they might look at you funny. But when I wrote down the name Cody Carmichael when it popped into my head it just glowed. I just knew. And I guess what makes me who I am is I just go with that, and I say to myself, to speak like Cody, whatever, man, excellent.
P&W: Did you find that writing a novel was more difficult than putting together a collection of stories? If I remember correctly, you once wrote a novel about a talking bird, which is now in a drawer. Was that good practice?
TP: I suppose the correct answer is how I suffered in both cases. It seems to be the thing to suffer. But listen: once I went to an O. Henry Award ceremony and Joyce Carol Oates was introducing Stephen King, and sort of summarizing his winning short story. And behind Joyce Carol Oates at the podium, Stephen King was like shifting in his chair, and pumping his hand, and making faces. Not making fun of Ms. Oates, but just grooving on the retelling of his own story! King was like a ten-year-old kid, he was just so jazzed about the best part of his own short story!
I think when I wrote the novel I was the same way as King. The key word here is an old Greek one: enthusiasm. For me writing is play.
P&W: What are you playing with now? Another novel?
TP: That's the thing: I never know what I am going to do next. Everything is "accidental" passion. Whenever I have tried to force something, whatever has called me to writing shuts down fast and hard. I am pretty humble-and more so every year-because deep down I know "I" don't make my own heart beat, nor do "I" know how to create a heart, an eye, a flower, or a fly. So I wait to be amused and intrigued and curious to get back to work. I think my "laziness" is that I am pretty aware of death putting everything but awe, love, and art to shame. That's the way I wrote this novel: like I was a skull speaking.