Today's GalleyCrush is Te-Ping Chen's Land of Big Numbers, forthcoming from Houghton Mifflin Harcourt on February 2, 2021.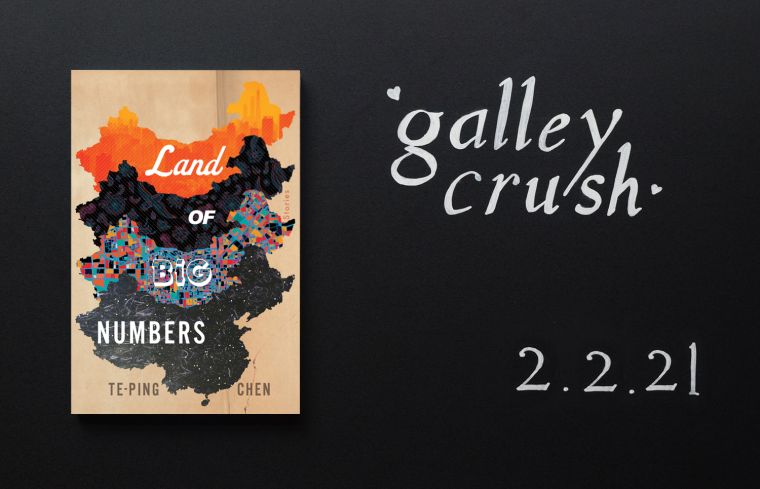 Perfect pitch: "A debut collection from an extraordinary new talent that vividly gives voice to the men and women of modern China and its diaspora." 
First lines: "The hour of our birth had been carefully forecast, a winter's day cesarean timed to coincide with Dr. Feng's lunch break. The doctor pulled me out first, indignant, squalling, like a hotel guest inexpertly roused and tossed before checkout. She came next, and was so perfectly quiet that at first they worried she wasn't breathing at all."
Big blurb: "A spectacular work, comic, timely, profound. Te-Ping Chen has a superb eye for detail in a China where transformation occurs simultaneously too fast and too slow for lives in pursuit of meaning in a brave new world. Her characters are achingly alive. It's rare to read a collection so satisfying, where every story adds to a gripping and intricate world." —Madeleine Thien
Book notes: Paperback, fiction, 256 pages. 
Author bio: Te-Ping Chen's fiction has appeared or is forthcoming in the New Yorker, Granta, Guernica, Tin House, and BOMB. A reporter with the Wall Street Journal, she was previously a correspondent for the paper in Beijing and Hong Kong. Prior to joining the Journal in 2012, she spent a year in China as a Fulbright fellow. She lives in Philadelphia.