POETS & WRITERS IS MORE than a magazine. We are a nonprofit organization dedicated to serving creative writers. We pay fees to writers giving readings and leading workshops, provide information and advice to authors, and help them connect with one another and with audiences. We also sponsor a number of awards and prizes. Learn more at pw.org.
P&W Benefit Raises Over $600,000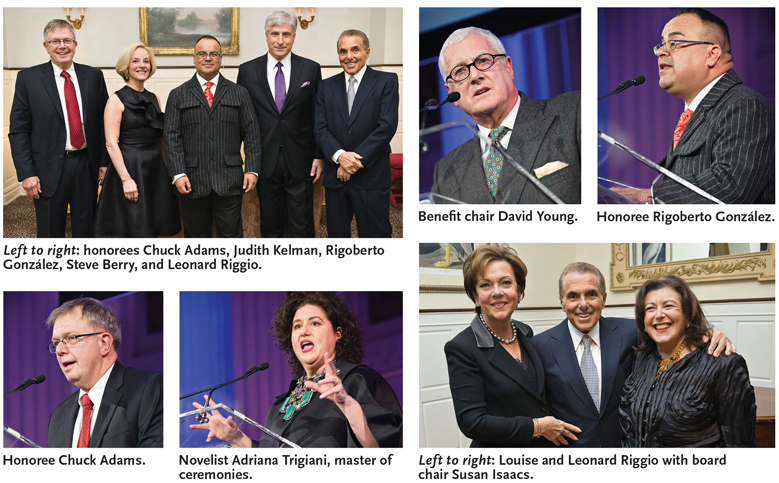 David Young, chair and CEO of Hachette Book Group, served as the benefit chair for Poets & Writers' Annual Dinner, which was held on March 18 in New York City. The fund-raiser, which attracted nearly five hundred guests, raised $631,800 to support the organization's programs and publications. 
Novelist Adriana Trigiani was the master of ceremonies, and Susan Isaacs, chair of the organization's board of directors, presented awards to the evening's honorees. Chuck Adams of Algonquin Books received the Editor's Award, recognizing his sustained and outstanding contribution to the publication of literary prose. Leonard Riggio, chair and founder of Barnes & Noble, received the Leadership Award, a new distinction honoring an individual whose leadership has transformed and enlivened the field.
Three writers received the Barnes & Noble Writers for Writers Award, celebrating their generous work on behalf of other writers and the broader literary community. Steve Berry, whose novels often rely upon extensive historical research, was cited for his efforts to preserve historic sites, libraries, and archives; Judith Kelman was honored for creating Visible Ink, an organization that pairs cancer patients at New York's Memorial Sloan-Kettering Cancer Center with writing mentors; and Rigoberto González was recognized for his efforts to promote the work of other writers and deepen the public's appreciation of American literature. 
In his remarks, González said that he was grateful to be singled out as "a writer who is less interested in being somebody and more invested in doing something." He went on to say that, for him, "that something is contributing to the small but important critical attention that Chicano/Latino, LGBT, and other marginalized voices receive for that labor of love we know as the book.… The most devastating response to a book is silence, and it has given me great pleasure to make some noise."
Photo Credit: Christopher Smith