POETS & WRITERS IS MORE than a magazine. We are a nonprofit organization dedicated to serving creative writers. We pay fees to writers giving readings and leading workshops, provide information and advice to authors, and help them connect with one another and with audiences. We also sponsor a number of awards and prizes. Learn more at pw.org.
Writing From a Place of Urgency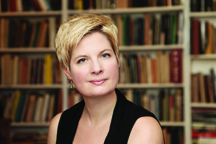 My father died, a gun in his hand, the day after I turned twenty-three. I can't say I was drawn to war because of my father's suicide; my interest in the topic had already begun. But his death intensified my attraction to war writing, and it became one of the catalysts for my work with veterans. 
The phrase "22 a day," which has become a galvanizing call to action within the veteran community and beyond, refers to the estimated number of veterans who die by suicide in the United States. While the precise number has been debated, the problem of suicide is real; the victims are both young and old, their backgrounds diverse. My own experience tells me that silence can be toxic and isolating. Shame, or a sense that some topics can't be mentioned, grows more intense with the reinforcement of time.
In 2013 I started Voices From War as a way to offer writing workshops for veterans. Poets & Writers Magazine had been important to me for years; now the organization that publishes it had become a critical early supporter of the workshops. The Readings & Workshops program offered essential financial support, and assured those writing in Voices From War classes that other communities are listening.
While I am not a veteran myself, nor was my father, I see my experiences mirrored and refracted in the war literature I've been drawn to for decades, and in the stories of the veterans in our workshops. After my father's death, I felt a silence I had been carrying around throughout my childhood. When he died, I took on his silences too. 
Saying the word suicide was difficult; it made my pulse rise. I feared the reaction—mine, and others'—to the word. Through writing about suicide—about my father's unnecessary secrets, his death, and my experience of the aftermath—I learned to speak about it. By speaking and writing, and by reading others' stories and research, I found a community of shared experience.
In the years following my father's death, I felt tainted, shamed. But over time those feelings helped me to recognize that difference can draw people together, and that most of us carry around some version of silence or private pain. Some of the most difficult conversations we have in Voices From War classrooms lead to the greatest rewards and even the most pleasure. Alone, it is easy to feel helpless, but there is sustenance in community. 
Voices From War's workshops include not only young veterans, recently returned from Iraq and Afghanistan, but also those in their seventies and eighties, who served in Korea and Vietnam, and everyone in between. 
Each week in the workshop these veterans, sometimes with family members, come together to read others' stories. They read recent work from veterans such as Phil Klay and Mariette Kalinowski, earlier writing by both veterans and civilians such as Andrei Platonov, Grace Paley, Tim O'Brien, Janine di Giovanni, Anatole Broyard, and many others. And they write their own.
War journalist Sebastian Junger, in his newest book, Tribe, describes "the eternal human quest for meaning." He writes, "Humans don't mind hardship…what they mind is not feeling necessary."
Our stories are necessary. I know this is how I felt after my father's suicide, as I tried to understand and find his stories, and figure out my own. And I see it each week in the Voices From War classroom. 
Veterans have taught me to recognize my own need to serve, and how valuable their ongoing service still is, in myriad ways. I am drawn to these veterans' stories for many reasons, not least of which is that writing from a place of urgency creates some of the best work: writing that matters, writing that helps us to understand ourselves and others, writing that helps us to connect.
Kara Krauze lives in New York City, where she founded Voices From War in 2013. Her writing has been published in Quarterly West, Center: A Journal of the Literary Arts, Highbrow Magazine, the Daily Beast, Hypothetical Review, the Los Angeles Review of Books, and elsewhere. She has a BA from Vassar College in international studies and an MA in literary cultures from
New York University. 
Voices From War, an emerging nonprofit offering writing workshops for veterans, as well as related events, is proudly supported in part by
Poets & Writers' Readings & Workshops program, the 14th Street Y in Manhattan, and by public contributions. Workshop details are available at voicesfromwar.org.
Photo credit: Michal Tranda.