POETS & WRITERS IS MORE than a magazine. We are a nonprofit organization dedicated to serving creative writers. We pay fees to writers giving readings and leading workshops, provide information and advice to authors, and help them connect with one another and with audiences. We also sponsor a number of awards and prizes. Learn more at pw.org.
Fellowship Brings Poet Home
The Details of the Fellowship Program

 
 
The Galen Williams Fellowship Program was created as part of Poets & Writers' 40th Anniversary Campaign to honor Galen Williams, who founded the nonprofit organization in 1970.
 
 
The goal of the program is to cultivate graduate students and young professionals interested in working for a literary organization or publication.
 
 
Fellows are paid to work part-time for ten months. They receive an in-depth introduction to the editorial process (in the case of the Raab fellow) and community-based literary programming (in the case of the McCrindle fellow).
 
 
Applications for next year's fellowships will be accepted from May 1 to June 15, 2012.
In 2010 Poets & Writers established the Galen Williams Fellowship Program to nurture future leaders for the nonprofit literary field. Two paid fellowship positions were created and named for the donors who have made the program possible: the Diana and Simon Raab Editorial Fellowship and the Joseph F. McCrindle Foundation Readings/Workshops Fellowship. We asked Cathy Linh Che, our first McCrindle fellow, to write about her experience.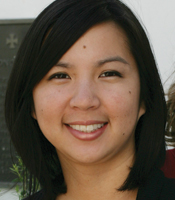 Four years ago I was leading a comfortable existence as a high school English teacher in Los Angeles—I had job security, paid benefits, and the love of family and friends—but something was missing. In order to focus on my teaching career, I'd stopped writing poetry altogether. I poured all my creative energy into my students and left little for myself. So I applied to MFA programs and, when I was accepted at New York University (NYU), I took a risk. I didn't have a clear sense of where I was headed, but I wanted to see where writing would lead me.
After earning an MFA at NYU in 2009, I spent a whirlwind year doing the New York City hustle—working three part-time jobs and living in a cramped railroad-style apartment. I made just enough for rent, ramen, and subway fare, and at first it seemed worth it: New York was the nexus of all things literary—publishing houses, readings, and prizes. But I was exhausted, sometimes lying in bed from late afternoon into evening. Poetry was at my center, but my life lacked heart and balance and I missed the source that most inspired my writing—my home and my family.
Then, like a miracle, the phone rang. The familiar 310 area code flashed on the screen. I jumped up and down as Cheryl Klein from Poets & Writers' California office informed me that I had been selected as the inaugural Joseph F. McCrindle Foundation Readings/Workshops Fellow in Los Angeles. During my year as a McCrindle fellow, I supported creative writers by processing grants, fielding phone inquiries about the writing life, and conducting outreach to bring writers to underserved and rural communities. I was invited to visit teen workshops cosponsored by organizations such as 826LA, Barrio Writers, and Hillsides. Steven Reigns's writing workshop—My Life Is Poetry: An Autobiographical Workshop for GLBTQ Seniors—was pure magic for the community of writers, and his lessons were instructive for me as a teacher. I also had the opportunity to learn the ins and outs of independent publishing from the likes of Red Hen Press and Les Figues Press, and I fell in love with the letterpress room at Otis College of Art and Design—the smell of ink in the air.
I began to see L.A. differently. The California skies were blue as ever, but now, when I drove past the funky specialty stores on Melrose, I was also aware that I was passing Fairfax High, where my favorite poet, Jack Spicer, went to school. Venice wasn't just sun and smoke shops, but home to Small World Books and Beyond Baroque, a prominent poetry center. In the spring, as part of a program supported by Hyperion Books and hosted by Barnes & Noble, we curated a reading that featured five L.A.-based women writers—Lory Bedikian, Eloise Klein Healy, Suzanne Lummis, Imani Tolliver, and Amy Uyematsu. The writers spoke on inspiration and the diverse cultural history of Los Angeles. This was the culmination of a restorative ten-month stint as the McCrindle fellow: fierce women presenting their passionately engaged poetry.
Since the fellowship I've returned to New York to teach a teen workshop. I channeled the bigheartedness of the best teachers I've observed and found, in the classroom as well as in my writing, a way to mark off my own territory—a way to create, no matter where I am, a sense of being at home.