The Reactive
By Masande Ntshanga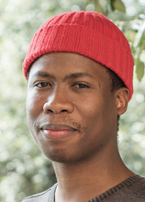 The way I got to know them, by the way, my two closest friends here, is that we met at one of the new HIV and drug-counseling sessions cropping up all over the city. We were in the basement parking lot of the free clinic in Wynberg. The seminar room upstairs had been locked up and taped shut, there'd been a mer­cury spill, and our group couldn't meet in there on account of the vapors being toxic to human tissue. Instead, they arranged us in the basement parking lot, and in two weeks we got used to not being sent upstairs for meetings. I did, in any case, and that was enough for me in the beginning.
In those days, I attended the meetings alone. I'd catch a taxi from Obs over to Wynberg for an afternoon's worth of coun­seling. By the end of my first month, when the seminar room had been swept once, and then twice, and then three times by a short man who wore a blue contamination meter over his chest, each time checking out clean, everyone decided they preferred it down below, and so that's where we stayed.
Maybe we all want to be buried here, I said.
It had been the first time I'd spoken in group. Talking always took me a while, back then, but the remark succeeded in making a few of them laugh. It won me chuckles even from the old-timers, and later, I wrote down my first addiction story to share with the group. It was from a film I saw adapted from a book I wasn't likely to read. Ruan and Cissie arrived on the following Wednesday.
I noticed them immediately. Something seemed to draw us in from our first meeting. In the parking lot, we eyeballed each other for a while before we spoke. During the coffee break, we stood by the serving table in front of a peeling Toyota bakkie, mumbling tentatively towards each other's profiles. I learned that Cecelia was a teacher. She pulled week-long shifts at a day­care center just off Bridge Street in Mowbray, and she was there on account of the school's accepting its first openly positive pupil. Ruan, who was leaning against the plastic table, gulping more than sipping at the coffee in his paper cup, said that he suffocated through his life by working on the top floor of his uncle's computer firm. He was there to shop for a social issue they could use for their corporate responsibility strategy. He called it CRS, and Cissie and I had to ask him what he meant.
In the end, I guess I was impressed. I told them how I used to be a lab assistant at Peninsula Tech, and how in a way this was part of how I'd got to be sick with what I have.
When we sat back down again, we listened to the rest of the members assess each other's nightmares. They passed them around with a familiar casualness. Mark knew about Ronelle's school fees, for instance, and she knew about Linette's hepatitis, and all of us knew that Linda had developed a spate of genital warts over September. She called them water warts, when she first told us, and, like most of her symptoms, she blamed them on the rain.
That day, when the discussion turned to drug abuse, as it always did during the last half-hour of our sessions, the three of us had nothing to add. I looked over at Ruan and caught him stashing a grin behind his fist, while on my other side, Cecelia blinked up at the ceiling. I didn't need any more evidence for our kinship.
The meeting lasted the full two hours, and when it came to an end, I collected my proof of attendance and exchanged num­bers with Ruan and Cecelia. I suppose we said our goodbyes at the entrance of the parking lot that day, and later, within that same week I think, we were huffing paint thinner together in my flat in Obs.
Excerpted from The Reactive by Masande Ntshanga. Copyright  ©  2016 by Masande Ntshanga. Excerpted by permission of Two Dollar Radio. All rights reserved. No part of this excerpt may be reproduced or reprinted without permission in writing from the publisher.