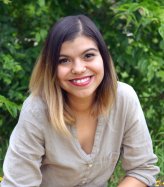 Publications and Prizes
Journals:
ALTARWORK
,
Rock & Sling
,
Sagebrush Review Literary Journal
,
Acentos Review
,
ZOUCH Magazine & Miscellany
Personal Favorites
What I'm Reading Now:
,
A Field Guide to Getting Lost
by
,
,
The Light of the World
by
,
Favorite Books:
Reading Lolita in Tehran, Water & Salt, and Mujerista Theology.
Reviews, Recordings, and Interviews
work_excerpt:
From Testimonio of the Body, published by SheLovesMagazine, March 2018. You, like a Jasper stone, healer of duplicitous tongue. Courageous salt deposit – I find you unmoved, misshapen, borrowed from familiar words. Guided light, unmuted beneath my Lazarus shroud. Arisen from (d)(l)ust – sins of my foremothers. Spoken for, removed from implicit layered tierra firma. Kneaded bands of our stories smudged clay soul. How, like Mary, we wept.
Last updated: Dec 10, 2018