Edie Rhoads attended University of Virginia and earned an MFA in poetry from New York University, where she was a New York Times Teaching Fellow working with middle schoolers on the Lower East Side. Now she lives in Vermont, where she studies expressive and narrative therapies and the fine art of child rearing. Rhoads's poems have appeared in such publications as Post Road, Blackbird, the Salon, and Indiana Review. Her first book, The Day Bat, published by Honeybee Press, was made possible in part by a grant from the Vermont Arts Council and the National Endowment for the Arts. 

"How many Vermonters does it take to change a light bulb? Three. One to change the bulb and two to sit around discussing how they liked the old one better."  –Vermont folk saying
Though I'm from down-country, I have always been a Vermonter at heart. During the summers when I was a kid, I would visit my grandmother in the village of Landgrove and wile away the hours blowing bubbles, picking black-eyed Susans, and counting out her pocket change for penny candy at the country store. I moved to the Green Mountain State in 2006, uprooting from Brooklyn, New York, where I was teaching preschool, shortly after having finished my MFA degree in poetry at New York University. While living in Brooklyn, I usually spent all of my free time in Prospect Park and the Brooklyn Botanic Garden. I wanted a dog, I wanted a backyard, I wanted mountains to hike and woods to get lost in. So I packed my cats and my books and headed north to tiny Saxton's River, Vermont, for a few months of complete solitude in a log cabin where I polished my first poetry manuscript, The Day Bat, and began a short story collection. At daybreak I'd go for a four-mile run down into the village, and when I summited Hartley Hill Road at the end of my route I'd pick raspberries directly off the bushes and go for a skinny dip in the icy spring-fed pond. Then the leaves turned gold and red and the roads got quieter. The first snow fell. A writer needs mountains and deep snow, I had concluded, but a writer also needs other artists with whom to drink oatmeal stouts and eat artisanal cheeses. I had visited Burlington in summer first and was taken by the afternoon thunderstorms, genial Church Street's brick alleys and cozy cafés, and Lake Champlain with its wooded isles and beaches of gnarled pine and smooth pebbles. On the bike path along the waterfront are stone cairns, lions and angels carved into marble slabs, and loons and cormorants. And there are people too—minstrels, puppeteers, ice sculptors, and wood carvers—with whom to potluck and picnic. Burlington took me in, and began to shape me.
In my first year of Vermont life I learned how to split firewood, acquired a significant other who was in the midst of building a decadent treehouse large enough to sleep sixteen, hiked Camel's Hump, camped atop Mount Mansfield (in six feet of snow! in May!), and learned how to press apples for cider. In my second year I got my dog (Zana the Wonderpooch) and my green ten-speed (Cricket), and started my own beautiful garden in a community plot. Since then I've worked as an elementary school lunch lady, bartender, and winter camping advocate. I've joined a fiction-writing group, the Barn Owl Poetry Collective, and toured the West Coast in a Green Mountain indie-folk-rock outfit as a trombonist—time away makes coming home to Vermont that much sweeter.
Just this year I finally had my first book published, by local Honeybee Press, and gave birth to a beautiful daughter who will be able to boast (unlike many of us who love Vermont so dearly) that she is a true Vermonter. I know from experience that this state is magical—with its phenomenal natural beauty and entirely original, organic humans creating a life-poem that continues to light my days.
New York City had me jaded; I felt that everything had already been written. It's easy to find things to write about here that are as new and fresh as the seasons each time they arrive. The hard part is finding time to put pen to paper. Biking, skiing, swimming, hiking, kayaking, gardening, harvesting, baking, grilling, knitting, contra dancing—so much calls out to be done! The mountains beckon too, in their quiet green way. And the shimmering lake, and the full gold moon, and the moon's reflection in the lake reflects like a fist of pearls…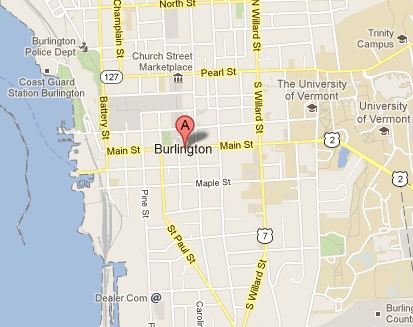 It's 7:30 AM on a June Tuesday, and my eight-month-old daughter and I push back the curtain to check on our neighbor's chickens and see what the sky looks like—blue, cloud-dappled; the sun shines on the apple tree. This is what my grandmother would call a "typical Vermont day." I love to wake up on the early side for coffee and pastries and get in a day's page count during Amina's morning nap at one of the atmospheric coffee shops in our neighborhood, Burlington's historic Old North End. Barrio Bakery (197 North Winooski Avenue), formerly Panadero, has the best light. The sun pours through two wall-sized windows all morning while I enjoy a mocha topped with foam and a buttery raspberry scone as I write. For a heartier bite, I go for a bacon quickie at the Chubby Muffin (88 Oak Street), where the friendly counter guy knows how I like my eggs and where my canine sidekick likes to be tickled (behind her left ear especially).
Irish and Lithuanian Jewish immigrants settled this part of the city in the late 1800s due to low housing costs and proximity to the waterfront, and waves of new Americans keep the neighborhood fresh and lively. On our way home, we pass a string of locally owned international markets on North Street, the Himalayan Market, 99 Asian Market, and the Halal Store, where one can buy anything from fresh goat meat samosas to bubble tea, Tibetan Prayer flags to brocaded hijabs.
Once we get home, Amina and I take advantage of my caffeine buzz to have a dance-party-housecleaning fest with a local-band soundtrack (Swale, then the Toes, Kat Wright and her Indomitable Soul Band, then an EP of the Cush) before another session at the desk. After I've worked through a first revision of this morning's best poem, it's time for a long bike ride. Amina's going for a walk with her Auntie 'Lyssa, so I hop on Cricket and swoop down Depot Street to the waterfront where Lake Champlain sparkles all the way out to New York State. If I have the time, I ride past the skate park and the kayak and sailboat rental, across the Winooski River Bridge to the Causeway, a former railroad line connecting Burlington to the Champlain Islands. This is writer's paradise. I stash my bike, shake out my towel, and lie down on a warm slab of rock with the lake surrounding me and the Adirondacks piling up into the clouds in the distance. And if (when) I hit writer's block, I dive off a piling into the cold refreshing tumble. After a few dips and some gentle freewriting, I dry off in the sun. Watching a loon fish for her brunch, I realize its time for Amina's next nursing session and bike back into town.
After our reunion, I buckle Amina into her cozy baby carrier and head downtown. It's the Discover Jazz Festival in early June, so free music fills Church Street and we want to take it in. We swing by Junktiques Collective (324 North Winooski Avenue) to check on a consigned typewriter and pick up an inspirational knick-knack if one appeals. On my previous visit I spotted a vintage, well-loved E.T. doll, a 1940s gas mask, and a collection of Ukrainian cufflinks. Today we walk out with a clear bouncy ball that contains a colorful glittering butterfly. At the top of Church Street on the Fountain Stage we dance to an Afrobeat act from New York City and a few local high school jazz combos. Burlington is the kind of town where you go to the food co-op in your pajamas for cream cheese and see twelve people you know, so while we are dancing we wind up surrounded by friends and acquaintances enjoying the free music. Then the weather takes a sudden turn. As the saying goes, if you don't like the weather in Vermont, wait five minutes. The humidity shoots up and then plummets, and a heavy cloud gathers in from the lake. We are in for a brief monsoon. Fortunately, my favorite bookshop is right up the street. Crow Bookshop (14 Church Street), with its excellent selection of new and used books and a special set of shelves dedicated to Vermont authors. Amina and I plunk down on the couch with a picture book about a bear that has lost his hat and wants it back and read as raindrops slide down the windowpanes.
We wait for the storm to pass, but it is taking its sweet time. Eventually we dash out into wind and rain to seek shelter down the block at Dobrá Tea (80 Church Street), where we can take off our shoes and curl up on a pile of cushions surrounded by old photographs and artifacts from China, Taiwan, and India. The menu is as long and absorbing as an oriental travelogue from the 1820s. I order a hotcha, grassy green tea and almond milk whisked into a froth. This is one of my favorite places in town to write and read. The atmosphere is always hushed and peaceful. And if I happen to be in the mood for conversation, the gracious "devoteas" who serve here are knowledgeable on Japanese greens, Jungian psychoanalysis, martial arts and acupuncture, among other things.
When the rain finally lets up, we hop a local bus (fueled with natural gas of course) and pop down the South End Art District and hop off at Four Corners of the Earth Delicatessen (310 Pine Street) for a delicious lunch. I am not the only local who is certain that owner Latso makes the best sandwiches in the world. Jamaican avocado is my steady favorite. The interior of the small restaurant is enchanting—folk art and folios from Soviet Russia to leaf through while you munch. Latso is also a skilled poet and translator, so we may chat over sandwich and demitasse about the upcoming release of the Salon, a biannual journal published by Honeybee Press featuring excellent poetry and fiction from emerging and established Vermont writers, published with funding from Burlington City Arts Council, or the next letterpressed edition of the Barn Owl Poetry Extra, self-published by a group of young Burlington writers who hold sporadic workshops in Latso's antique-filled barn on Pine Street. Other notable local publications include Johnson State College's Green Mountains Review (pick up this year's twenty-fifth Anniversary Poetry Retrospective), Vermont College of Fine Arts' print and online journal Hunger Mountain, Onion River Review edited by students at St. Michael's College, and the glossy new literature, art, and culture review Thread Magazine, which recently featured Raychel Severance's glorious portraits of colorful Burlington artists and writers with their bicycles. From here, Amina and I cross the street to Barge Canal Antique Market (377 Pine Street) in search of a coffee table that will double as a writer's desk. No table meets my specs, but I end up walking out with a hand-blown glass candy dish to fill with tamari almonds and a ceramic zebra lamp—fuel for the muse…and light for the wee hours when inspiration strikes and Amina is snoozing. At Speaking Volumes (377 Pine Street), the neighboring used-book and vinyl treasure trove, I find a Winnie the Pooh 45 for my daughter and a copy of Eugene Montale's selected poems with some translations by my all-time favorite teacher, Charles Wright. I studied with him at UVA when I was a measly undergrad—he once shared the keen insight that if the best adjective I could come up with for a rolled joint was "lumpy" then "darling, there's something wrong with the way you're rolling those joints."
Up the road I peek in at consignment mecca Battery Street Jeans (Seven Marble Avenue) for a sweet lace vest I put on layaway last month, and Amina takes a ride on the giraffe rocking horse (not for sale, I've asked). Then we head over to the Green Door Studio (Four Howard Street) where my friend and Honeybee Press founding editor Ben Aleshire is hosting an impromptu letterpress and signature-sewing party to prepare for this Saturday's Art Market. Every weekend Honeybee has a table in the arts section at the Burlington Farmer's Market (City Hall Park), which takes place every Saturday from 8:30 AM to 2:00 PM, where we traffic copies of the Salon, my book The Day Bat (hand-sewn with a letterpressed cover made of pulped Egyptian cotton hotel sheets), and other local literary endeavors. There's also a typewriter—Honeybee Press hosts a revolving poet-in-residence who will type out an extemporaneous composition for you while you shop for rainbow chard and chevre from local farmers.
But back to the Green Door. Today, the doors are rolled back in the used-to-be autobody shop that now houses our Vandercook letterpress and type cabinets. The atmosphere here is always light but determined, wine bottles and mason jars scatter the scarred butcher-block counter and local poets and artists can often be found working together to press a broadside or print a woodblock. Before Honeybee set up camp here in 2011, the Green Door Studio housed Combat Paper, a cooperative of Iraqi War veterans who processed old uniforms into handmade paper and collected war poems from returned soldiers to print. The studio is open for those who are interested in seeing a working letterpress, learning about bookbinding, or just talking shop over a jar of malbec.
I sew a few signatures while Amina naps, and when she wakes we grab a bus back downtown. I'm hungry again with the ferocious intensity of a nursing mother, so a stop at Duino Duende (Ten North Winooski Avenue) is in order. This opium-den-speakeasy-saloon is one of Burlington's best kept secrets, with its garnet and ochre interior and geode-encrusted mirrored bar. I used to wait tables here and bartend at the attached café, the Radio Bean (Eight North Winooski Avenue). Amina and I still visit frequently to chat with the artists, dancers, and writers who roost here and indulge in our mutual passion: avocados. I order a reasonably priced rice and beans plate with local kale salad, housemade salsa, fresh guacamole, and famously fabulous Vermont cheddar melted atop all. The scrape of the clave and timbales' cascara next door has Amina bobbing up and down on my lap and smiling with glee. Gua Gua, with their blend of Latin rhythms and jazz improvisations, may be her favorite local band. Harry Belafonte is certainly her favorite solo artist…but I digress.
After dinner, we head home to turn into pumpkins, but if this was your visit to Burlington I would encourage you to stay for Honky Tonk night, or if school is in session head up to the University of Vermont for some higher-brow academe culture. The fabulous Painted Word Poetry Series, hosted by UVM's Fleming Museum (61 Colchester Avenue), draws world-class talent to our little city. Curated by poet Major Jackson, recent readers have included Tina Chang, Nicole Sealey, Reginald Dwayne Betts, and South African poet laureate Keorapetse Kgositsile. If you are lucky enough to plan a visit for late September, you can take in the free and glorious Burlington Book Festival. Last year Marie Howe, C. D. Wright, and poet laureate Philip Levine read, among others. I was lucky enough to study with Phil at NYU and eager to hear him read again. He was as engaging and irreverent as I remembered, and I even managed to get him to buy a copy of my book! As its press release states Book Fest "features literary luminaries from around the world—and just around the corner." This year, I hope to catch readings by former Vermont governor Madeline Kunin, outstanding local poets Daniel Lusk, Reuben James, and Robert McKay, environmentalist Bill McKibben, and Pulitzer Prize winner Tracy K. Smith. There will also be a Vermont Women Writers Panel, an Emergent Media forum, and a "Jane Austen afternoon" complete with a lecture on period clothing and a light tea. And if you visit in spring and love all things local, as we Burlingtonites do, check out the Small Press & Comic Fair in neighboring Winooski, Vermont. You will find Honeybee Press represented, as well as an impressive (pun intended) array of other local publishers, zines, journals, and booksellers.
Summer is only one of Vermont's literary moods, dramatic and lovely as it may be with its glut of thunderstorms, strawberry festivals, and waterfall skinny dips. In autumn there are cider donuts to munch and leaves to peep, in winter you can write verse by the woodstove over a hot toddy after a brisk snowshoe expedition, and in spring you can take your pen and pad to a sugar shack to watch vats of maple syrup thicken to amber. If you do make it up-country for a visit, I guarantee Burlington will capture your imagination. So many folks who intend on passing through end up staying. And if you need to slow down a little, the pace here might suit. We Vermonters believe in sharing what we love the old fashioned way, and visitors are welcomed.