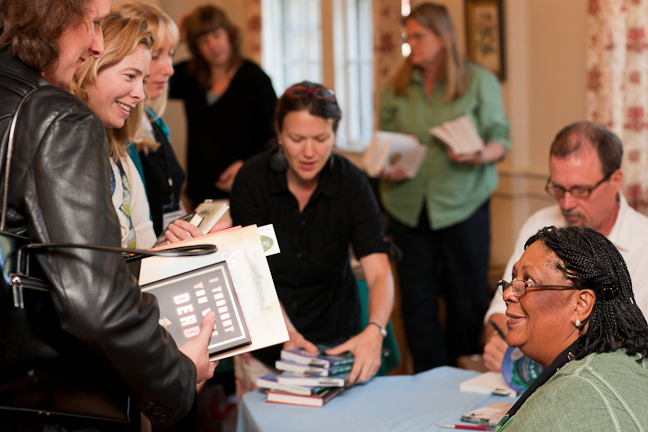 See writers who attended this retreat
Location:
Brattleboro, VT, United States
The 20th annual Brattleboro Literary Festival was held online and in person in downtown Brattleboro, Vermont, from October 14 to October 17. The festival featured readings, panels, and special events. Participants included poets Joshua Brandon Bennett, Dan Chiasson, Chard deNiord, Peter Filkins, Alexandria Hall, Edward Hirsch, Jane Hirshfield, Tim Mayo, Jennifer Militello, Deborah Paredez, Elizabeth A. I. Powell, Vijay Seshadri, and Mark Wunderlich; fiction writers Mateo Askaripour, Russell Banks, Kia Corthron, Jakob Guanzon, Lily King, Jean Hanff Korelitz, Imbolo Mbue, Eric Nguyen, Anna North, Lauren Oyler, Francine Prose, Kirsten Valdez Quade, Sanjena Sathian, Jim Shepard, and Scott Spencer; and nonfiction writers Jonathan Alter, Judy Batalion, Jo Ann Beard, Megan Mayhew Bergman, Bryan Burrough, Heather Clark, Carol Diehl, Maggie Doherty, Thomas Dyja, W. Ralph Eubanks, Jude Joffe-Block, Arthur Magida, Joe& Mazur, Bernice L. McFadden, Louis Menand, Robert Watson, Dorothy Wickenden, Jia Lynn Yang, and Carl Zimmer. All events were free and open to the public. Visit the website for more information.
Contact Information
Brattleboro Literary Festival, P.O. Box 1116, Brattleboro, VT 05302. (802) 365-7673. Sandy Rouse, Contact.