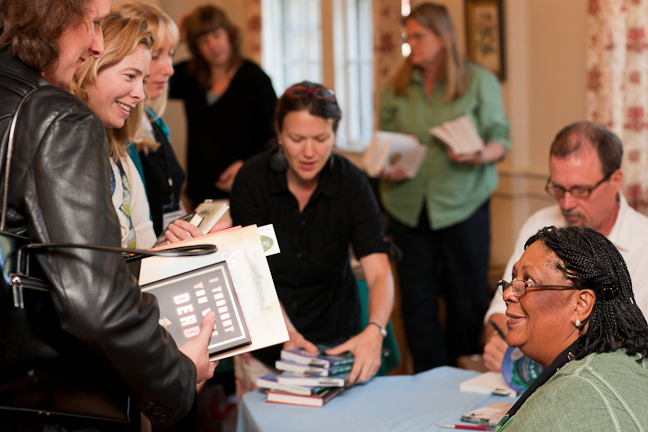 See writers who attended this retreat
Location: 
Brattleboro, VT, United States
The 21st annual Brattleboro Literary Festival was held online and in person in downtown Brattleboro, Vermont, from October 13 to October 16. The festival featured readings, panels, and special events. Participants included poets Andrea Cohen, Quintin Collins, Martín Espada, Kirun Kapur, Meg Kearney, Tomás Q. Morín, D. Nurkse, Meg Pokrass, and Jendi Reiter; fiction writers Cara Blue Adams, Andrea Barrett, Megan Mayhew Bergman, Wyn Cooper, Hernan Diaz, Julia Glass, Ann Leary, Joyce Maynard, David Means, Elizabeth Nunez, Tom Perrotta, and Bill Roorbach; and nonfiction writers Kathryn Davis, Allison Gilbert, Janice Nimura, Joshua Prager, Jordan Salama, and Sofi Thanhauser. All events were free and open to the public. Visit the website for more information.
Accessibility accommodations included elevators in all multilevel event spaces; accessible sidewalks, pathways, and doorways; accessible bathrooms with grab bars; accessible parking; assistive listening devices at two of the three venues; and closed captioning for the recordings of the virtual component of the conference. Writers emailed info@brattleborolitfest.org for additional accessibility details.
Contact Information
Brattleboro Literary Festival, P.O. Box 1116, Brattleboro, VT 05302. (802) 365-7673. Sandy Rouse, Contact. vtbookfest@gmail.com