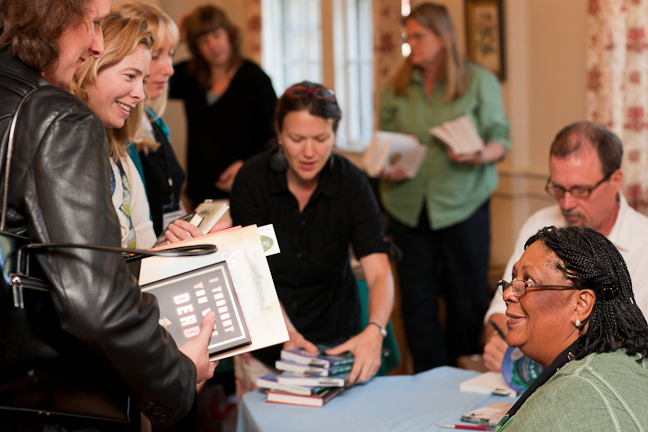 See writers who attended this retreat
The 18th annual Brattleboro Literary Festival was held from October 17 to October 20 at various venues in downtown Brattleboro, Vermont. The festival featured readings, panels, and special events. Participants included poets Richard Blanco, Charles Coe, Patrick Donnelly, Sarah Gambito, Jody Gladding, Edgar Kunz, Dorothea Lasky, Sydney Lea, Sam Ross, Mary Ruefle, Brenda Shaughnessy, Evie Shockley, Chase Twichell, and Phillip B. Williams; fiction writers Mona Awad, Russell Banks, Ann Dávila Cardinal, Christopher Castellani, Susan Conley, Matthew Dicks, Joshua Furst, Miciah Bay Gault, Juliet Grames, Siri Hustvedt, Catherine Lacey, Courtney Maum, Madeline Miller, Sandra Newman, E. C. Osondu, Dave Patterson, Roxana Robinson, Steven Rowley, Kamila Shamsie, Sharma Shields, Pitchaya Sudbanthad, Daniel Torday, and Charles Wheelan; and creative nonfiction writers Will Aitken, Jabari Asim, Christopher Benfey, Emily Bernard, Casey Cep, Michael Datcher, Andrew Delbanco, Joseph Ellis, Mark Griffin, Brent Kendrick, Elly Lonon, T Kira Madden, Matt McCarthy, Tatiana Schlossberg, Dani Shapiro, Katharine Smyth, Paige Williams, Brenda Wineapple, and Xu Xi. All events were free and open to the public. Visit the website for more information.
Contact Information
Brattleboro Literary Festival, P.O. Box 1116, Brattleboro, VT 05346. (802) 579-7414. Sandy Rouse, Contact.