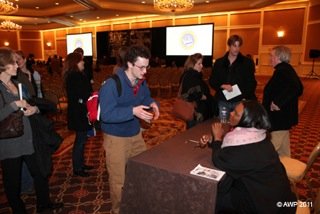 See writers who attended this retreat
Location:
Kansas City, MO, United States
The 2024 AWP Conference and Bookfair will be held from February 7 to February 10 at the Kansas City Convention Center in Kansas City, Missouri, and will also include a virtual component comprised of prerecorded and livestreamed events. The conference features panel discussions, readings, discussion rooms, and a bookfair. Prior to February 7, the cost of the conference for in-person preregistration, including all virtual programming and content, is $385 for nonmembers, $300 for members, $105 for seniors, and $70 for students. The cost of in-person, on-site registration, including all virtual programming and content, is $540 for nonmembers, $435 for members, $175 for seniors, and $150 for students. The cost of virtual-only preregistration prior to February 7 is $75 for nonmembers and $60 for members; the cost of virtual-only registration from February 7 to February 10 is $85 for nonmembers and $70 for members. For those attending the in-person events, lodging is available at the conference hotel at discounted rates. Visit the website for more information.
Accessibility accommodations include elevators in all multilevel event spaces; accessible sidewalks, pathways, and doorways; on-site scooters and wheelchairs (on a first-come, first-served basis); accessible bathrooms; accessible event spaces; assistive listening devices; closed captioning for prerecorded virtual events; open captioning for livestreamed online programming; and ASL interpretation. Contact the conference staff via e-mail to request accessibility accommodations by January 24 (efforts will be made to address requests received after this date) or for additional accessibility details.
Contact Information
Association of Writers & Writing Programs Conference and Bookfair, 440 Monticello Avenue, Suite 1802, PMB 73708, Norfolk, VA 23510. (240) 696-8273.