Submissions are currently open for the second annual Prada Feltrinelli Prize [3], cosponsored by the Italian fashion house Prada [4] and the Italian publisher Giangiacomo Feltrinelli Editore [5]. The winner or winners will each receive €5,000 (approximately $6,783) and publication in Prada Journal, a digital anthology distributed through the Prada website. The annual award is given for a short story.
Using the online submission system [6], submit a story of 10 to 20 pages in any language by June 24. There is no entry fee. The story should focus on the question, "What are the signs of a changing world? And what situations can we envision? Taking a good look at the details might give us the answer." Representatives from Prada and Feltrinelli Editore, along with an international jury, will judge the contest. The winner will be announced by December 31, and the full terms and conditions [7] can be read on the Prada website.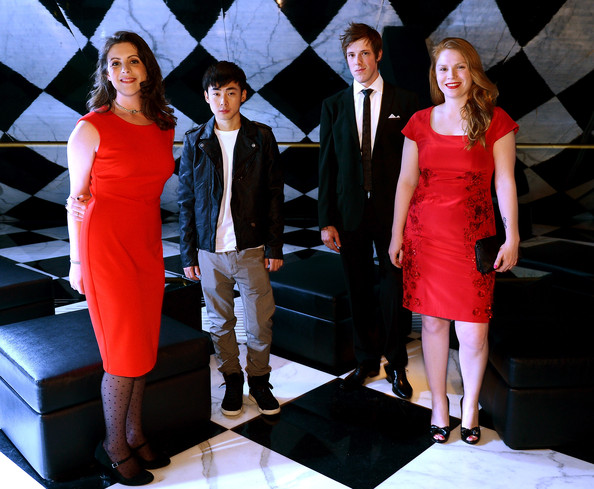 The inaugural winners [8] of the prize were Mattia Conti of Molteno, Italy; Leisl Egan of Melbourne, Australia; Angel Mario Fernández of Soraluze, Spain; Sarah Harris Wallman of New Haven, Connecticut; and Peng Yang of Beijing, China. They each received €5,000, and were honored at an event at the Prada Epicenter in New York City in October 2013. At the event, excerpts of their stories were read aloud [9] by writers and actors Jonathan Ames, Zoe Kazan, Anthony Mackie, Jay McInerney, and Gary Shteyngart. Over 1,300 entries in over 30 languages were submitted for the 2013 prize. The 2013 Prada Journal can be downloaded from the Prada website [10] and read in both the original language and in English. Of the five winning entries, two were written in English, one in Italian, one in Spanish, and one in Mandarin Chinese.
Four of the five inaugural winners, from left to right: Sarah Harris Wallman, Peng Yang, Mattia Conti, Leisl Egan.
Photo credit: Larry Busacca/Getty Images North America.