Golda Solomon [3] is a spoken word performer, professor, and the poet-in-residence at Blue Door Gallery [4]. Her poems have been published in the Mom Egg, Heal: Between the Pages of These Folks We Seek a Panacea, the 35th Anniversary of Blind Beggar Press' Collector's Edition Anthology, Out of Africa, Fiber Plus, Sacred Visions, and Narratives x4. She is the author of Flatbush Cowgirl (CM Graphic Design, 1999) and Medicine Woman of Jazz [5] (World Audience, 2012). She produced the poetry and jazz compilation albums First Set, Word Riffs, and Takin' It To the Hollow. Solomon created From Page to Performance workshops and ArtSpeak: Poetic Responses to the Walls [6], writing workshops (partially funded by Poets & Writers), at Blue Door Gallery.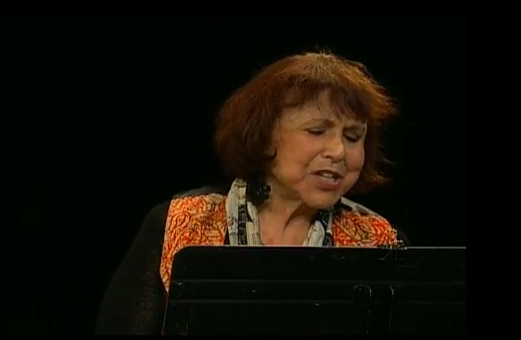 In 2008, I moved to Yonkers, New York, and came across Blue Door Gallery, a quaint gallery on a main street next to a boarded-up building. Giving back to community and nurturing diversity is essential to who I am. I began as a volunteer, facilitating writing workshops, and with the help of Poets & Writers, I became Blue Door Gallery's poet-in-residence, and ArtSpeak was born.
The ArtSpeak workshops give participants an opportunity to use exhibitions as writing prompts and inspiration. A packet is distributed that contains an agenda with the current exhibition program, ArtSpeak Walk (which includes questions, poems, and readings related to the artwork), an explanation of ekphrastic writing, and an evaluation form.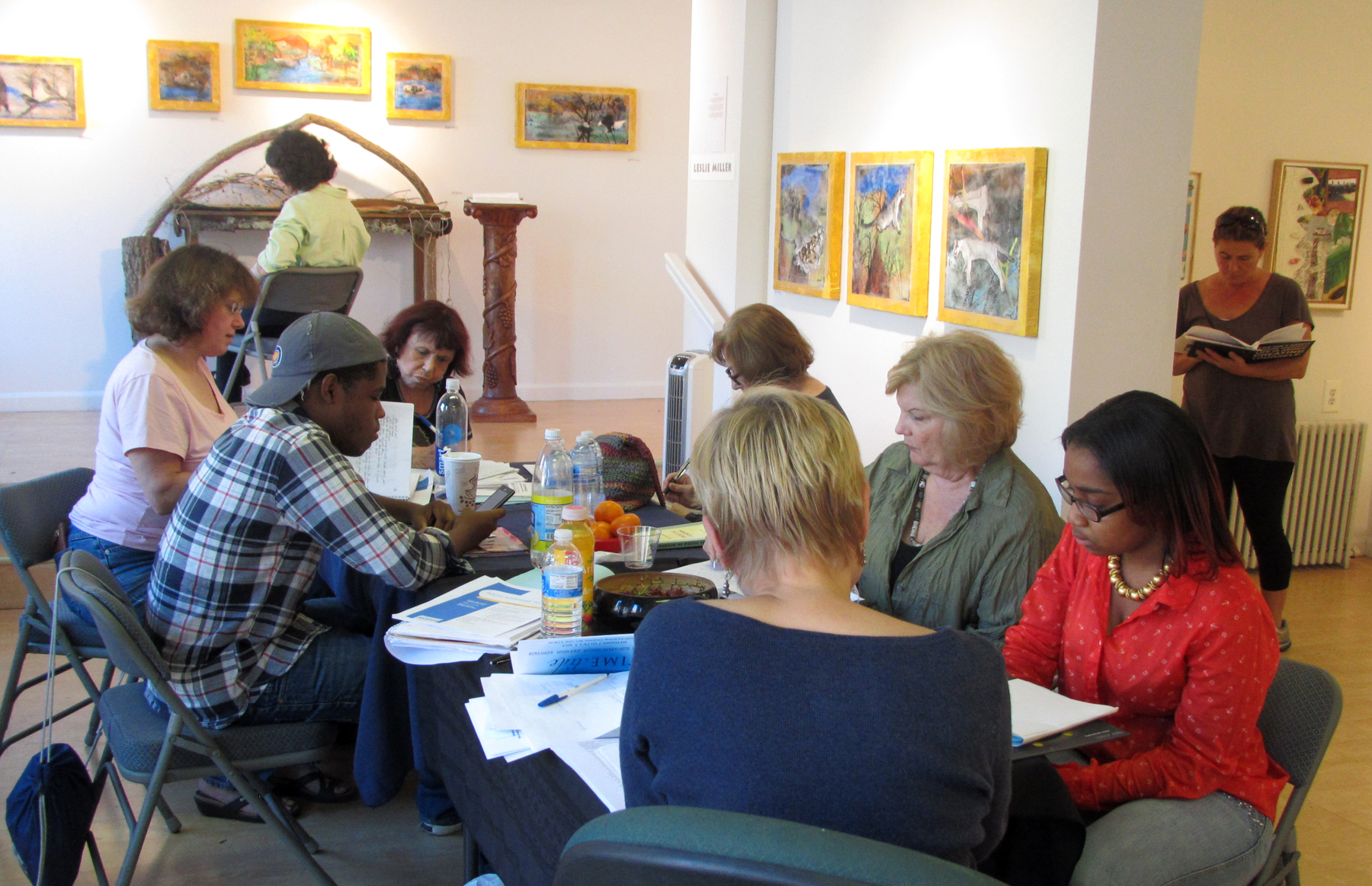 I facilitate eight workshops each calendar year, as well as two in the community outreach summer program. Each workshop is two and a half hours and allows leisurely viewing of the art with ample time for first draft free-writing and sharing in a welcoming atmosphere. Recent workshops have included an additional From Page to Performance workshop hour. Friends, family, and community members are invited to witness our "raw" work. On occasion, the artists attend, answer questions, and are invited to write—a rewarding experience for all.
It's been said that I am playfully stubborn in my determination to bring out the best in all who are there. My background in communications has taught me how to help those with public speaking jitters and I personally understand what it's like to have anxiety. As a child, I stopped playing the piano because of my fears and I try my best not to let that happen to anyone in my care. As one participant remarked, "For me, this was the best workshop/writing experience I've ever had. The group of writers was as varied as our ages and it gave the event incredible energy. I also felt free of my fears. In this workshop, I allowed myself to read my poem without quivering."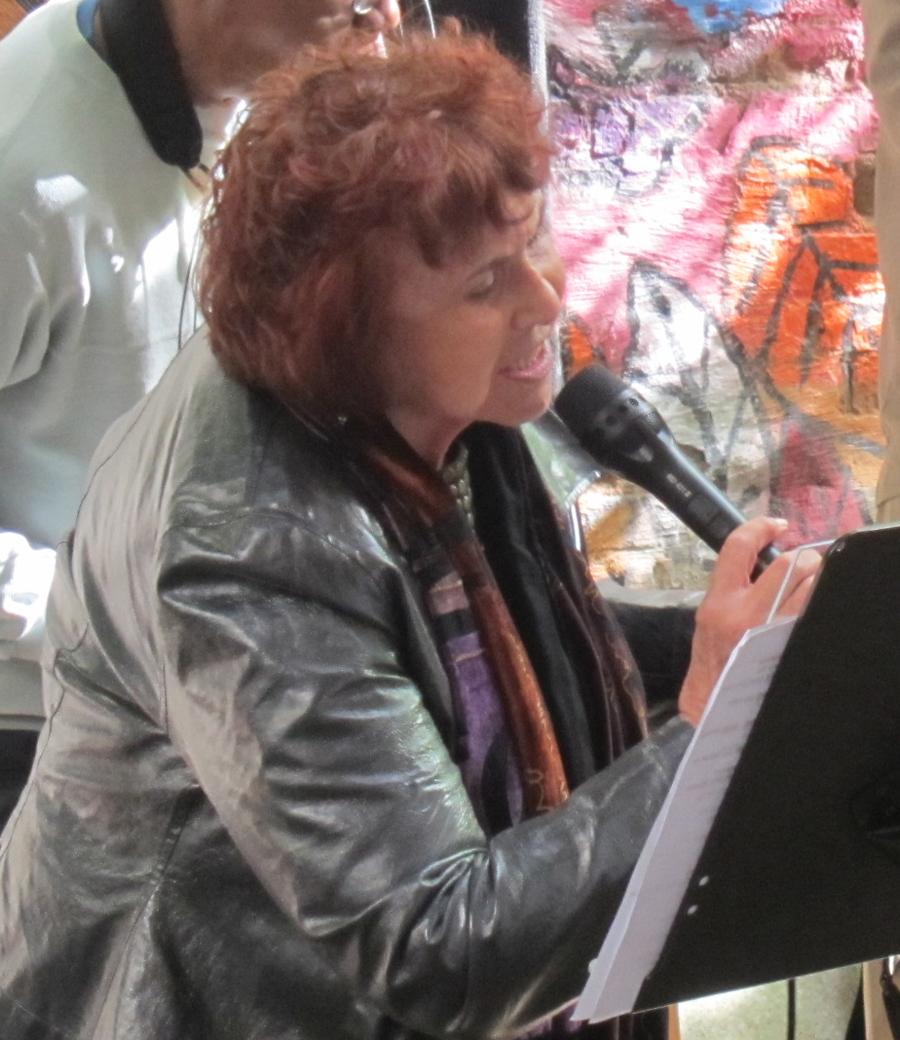 It is gratifying and a privilege to work with these writers and receive positive feedback. One member noted, "This need to accept my creative side is the invaluable part of the ArtSpeak experience for me. The other part is working with visual art and having this art as prompts to stir my words."
Blue Door Gallery has included ArtSpeak poems in publications and honored the artists with three ArtSpeak chapbooks. The gallery will soon inaugurate Blue Door Quarterly with writings from each ArtSpeak workshop. These publications have offered an opportunity for established writers and emerging poets to be published together. Support from the Readings & Workshops program of Poets & Writers has helped establish Blue Door Gallery as a cultural center in downtown Yonkers. On these streets of grit and energy, I am proud to be known as the ArtSpeak lady. I am always teacher and learner.
Photos: (top) Golda Solomon, (middle) Golda Solomon and ArtSpeak Class.  Photo Credit: Maureen Hatch.
Photo: (bottom) Golda Solomon. Photo Credit: Zak Sherzad.
Support for Readings/Workshops in New York is provided, in part, by public funds from the New York State Council on the Arts, [7] with additional support from the Friends of Poets & Writers [8].