Nancy Hathaway has written books on astronomy (The Friendly Guide to the Universe), photography (Native American Portraits), mythology, astrology, and more. Her shorter pieces have been published in periodicals that range from Alimentum and PaperTape to American Recorder and Self. She lives in New York City. 
In 2009 I was invited to lead a writing workshop at St. Margaret's House, an independent-living facility for the elderly and disabled that operates in lower Manhattan under the auspices of Trinity Church. The prospect excited me, except for one thing: The members of the workshop, which is funded in part by Poets & Writers [3]under its Readings & Workshops [4]program, had been meeting for years with another writer. Their community, I imagined, was fully established, and I wasn't certain I would fit in.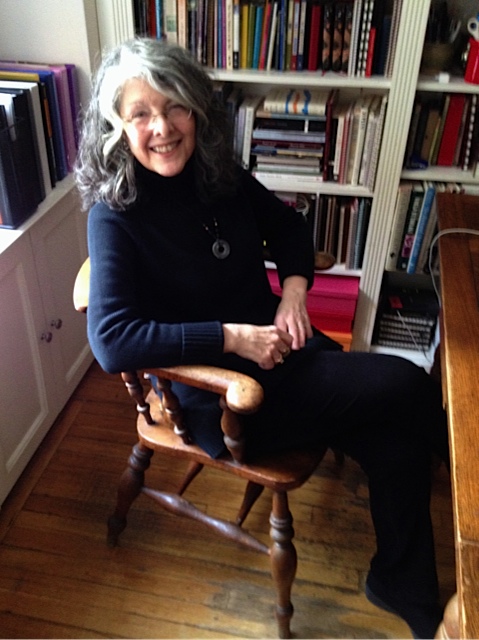 I also didn't know how to begin, though I'd taught composition many times. My friend Sally, a veteran workshop leader, suggested that I bring something in for the first day. Everyone likes a handout, she said. So I printed out a page of quotations about writing. There were inspiring passages from Kafka and Annie Dillard, along with rueful pronouncements from William Styron ("Let's face it, writing is hell"), Joy Williams ("Nothing the writer can do is ever enough"), and Flaubert ("Writing is a dog's life, but the only one worth living"). These downbeat quotations from distinguished writers reassured and consoled me. Writing is hard—and I'm not the only one who feels that way. I was sure the writers of St. Margaret's House would relate.
But they did not relate. As I ran through my quotations, they seemed mystified and faintly hostile. Why, they wondered, would Willa Cather believe, "Most of the basic material a writer works with is acquired before the age of fifteen"? That couldn't be true. (Flannery O'Connor upped the age to eighteen.)
And, sexism aside, why would Donald Barthelme say, "A writer is a man who, embarking upon a task, does not know what to do"?
And what did Red Smith mean about opening a vein?
I tried to explain. Eventually a septuagenarian in a floral blouse asked if we could change the subject and talk about Hemingway.
Absolutely.
She said that a series of electro-shock treatments had wiped out his memory. He couldn't write, and that's why he committed suicide, and what did I think about that?
I said I thought it was a tragedy.
She couldn't stop thinking about it, she said, whereupon a luminous, white-haired woman at the other end of the table leaned forward, eyes blazing. "When did that happen?" she demanded. "1961? 1962? Get over it!"
By the end of the session, I was worried. Timed writing exercises on specific topics had not gone well, and free-writing was a disaster. Leading this workshop was going to be rougher than I thought.
That was almost five years ago. Since then, despite diminished hearing, vision problems, mobility limitations, and other age related torments, most of the people I met that night (and a few new ones) show up weekly, pages in hand. Their writing has improved, as have their critical skills. Honest and encouraging in approximately equal measure, they really are a community, and I am honored to be part of it.
I date the turnaround to the third session, when I brought in two poems: "The Game" by Marie Howe and "Scrabble in Heaven" by Jane Shore. After we talked about them, I asked everyone to write about a game, and I set my iPod ticking. The results astonished me. A retiree who had been paralyzed by random prompts wrote nonstop about Monopoly. A former professor conjured up a long-ago badminton game. A second-wave feminist (and well-published journalist) tied a cogent political analysis to the plunder and betrayal involved in the board game Risk. There were pieces about checkers, dominoes, and Twister, and even a rumination on Freecell, the online solitaire game. Playing Freecell, wrote the Hemingway fan, "My breath becomes even, my blood oxygenated."
Since then, we have read a lot of poems, and the workshop has been transformed. Poems are better than prompts, even when they are used as prompts. Standard prompts may stir up memories but they offer nothing by way of literary models. Poems do that and more.
First, they show how other writers excavate sensitive material and thus they are liberating. Have mixed feelings about your niece? Read Louise Glück. Your father? Start with Roethke and go from there. Anxious about, say, cancer? Read Elise Partridge, Rosanna Warren, and, while you're at it, Whitman. Poetry peeks into every heart and under every stone. It reveals all—and it's short.
I like to bring in paired poems – W. H. Auden and William Carlos Williams on Breughel, for instance – but mostly I use individual poems. Stephen Dunn's "Death of a Colleague" caused a commotion, raised voices and all. Katrina Vandenburg's "Handwriting Analysis" inspired an essay that I am positive will become one woman's first outside publication. Christopher Smart's "Jubilate Agno," written circa 1760, occasioned an ode to the pharmacy chain Duane Reade.
A writing workshop is not meant to be a literature class. But how can it not be? Even for writers of prose, reading poetry illuminates subject matter, disentangles emotions, highlights the importance of craft, and demonstrates precision in language.
But there is one thing it cannot do: persuade writers to rewrite—not merely to make isolated corrections but to rethink, rephrase, even reorganize. Rewriting is a complex business, and many members of the workshop resist it.
I don't blame them. Rewriting can be tedious (and worse). Still, every spring, as the deadline for our annual literary review—a booklet—draws near, the workshop participants sit down with their stories, personal essays, and occasional poems and, I am happy to say, revise.
I attribute that miracle to the power of publication. Because poetry is stimulating, and self-expression is valuable and satisfying, but publication, however humble, reaches beyond the self, beyond the workshop, and into the world. Publication galvanizes.
Top: Nancy Hathaway. Photo Credit: George Sussman.
Bottom:  Journal 49. Photo Credit: Nancy Hathaway.
Support for Readings & Workshops [5] in New York City was provided, in part, by funds from the New York State Council on the Arts, [6] and the New York City Department of Cultural Affairs, [7] with additional support from the Louis & Anne Abrons Foundation, the Axe-Houghton Foundation, the A.K. Starr Charitable Trust, and the Friends of Poets & Writers [8].