Author Bennett Sims has been selected to receive the 2014 Bard Fiction Prize [3]. Given annually to an emerging writer for a book of innovative fiction, the prize includes a $30,000 cash award and an appointment as writer-in-residence at Bard College for one semester.
Sims  [4]receives the award for his debut novel, A Questionable Shape, published by Two Dollar Radio [5] this past May. He will complete his residency during the spring 2014 semester, during which time he will continue his writing, meet with students, and give a public reading.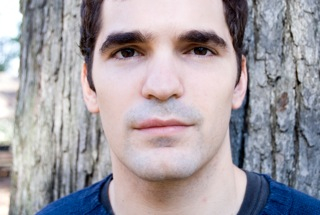 Photo credit: Carmen Machado
"The judges delight in welcoming to the literary community of Bard a writer whose first novel represents a powerful (and very readable) fusion of genres—a story about the vagaries of human perception which is also a wild romp of zombies biting through a curiously lyrical apocalypse," the Bard Fiction Prize committee wrote in a press release. "The author was one of the last students of David Foster Wallace, who was the first reader of the first version of this haunting novel of love and estrangement."
Born in Baton Rouge, Louisiana, Sims has studied at Pomona College and the Iowa Writers' Workshop. His fiction has appeared or is forthcoming in A Public Space, Conjunctions, Electric Literature, Tin House, and Zoetrope: All-Story.
Established in 2001, the Bard Fiction Prize is given to writers under the age of forty. Last year's prize was awarded to Brian Conn [6] for his experimental novel, The Fixed Stars (Fiction Collective 2, 2010).
To apply for the 2015 prize, fiction writers may submit a curriculum vitae, a cover letter explaining the project they plan to work on while at Bard, and three copies of a published book of fiction by July 15, 2014. Visit the website [7] for more information.