The California Writers Exchange [3] contest introduces emerging writers from California to the New York literary community and provides them a network for professional advancement. Every third year, writers in California are invited to submit manuscripts. On May 25, 2013, winners of the 2004, 2007, 2010, and 2013 contests gave a celebratory reading at the Last Bookstore [4] in Los Angeles. Cheryl Klein, director of P&W's California office, blogs about the event.


It was poet Allison Benis White [5] who coined the catchphrase of the day: Her trip to New York in 2004, she said, was "like Disneyland for writers." She described a week of meals at fabulous restaurants with the literary equivalents of Mickey and Donald. She remembered being nervous and joyous. And she remembered Richard Howard, then poetry editor of the Paris Review, bringing her back down to earth again.

"I was feeling anxious because I'd heard he was very critical. But then he said to [fiction winner] Dylan Landis and me, 'I loved your work.' That put my mind at ease. But then he turned to Dylan and said, 'And I especially loved yours.'" White laughed. "So I couldn't get too carried away."

White's second collection, Small Porcelain Head, recently won the Four Way Books Levis Prize in Poetry. Her first, which included the poems in her California Writers Exchange manuscript, was published as Self-Portrait With Crayon by Cleveland State University Poetry Center in 2009.

Although only one of the eight contest winners (Craig Santos Perez [6], 2010) had a book out when he won the contest, now the first six have a book published or forthcoming, cementing the contest's reputation as a career stepping stone—or at least a forecaster of success—for emerging writers.

The Last Bookstore, an old bank remodeled as a cavernous literary wonderland, was an appropriate site for writers to talk about their Disneyland experiences. Sculptures made out of old books swooped from the walls and mezzanine. Browsers weaved in and out of book-bricked archways on the second floor in search of $1 bargains. And on a stage amid the stacks on the ground floor, four additional contest winners echoed White's testimony and read from their latest work.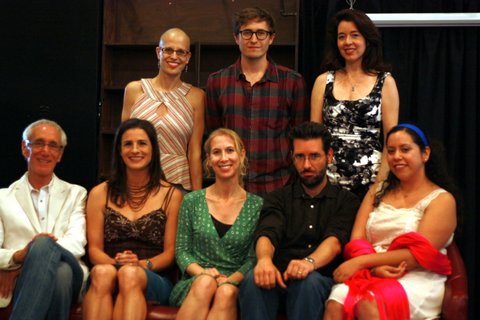 Larry Colker, poetry winner from 2007, showed off the Matrix-like cover of his book Amnesia and Wings [7] (Tebot Bach). 2010 winner Sean Bernard [8] read an offbeat zombie story, in which the creatures don't groan "braaaains" so much as matter-of-factly state it: "brains." Laura Joyce Davis [9], the 2013 fiction winner, read from her novel about sex trafficking in the Philippines. Her co-winner, poet Xochitl-Julisa Bermejo [10], read from a series of poems set on the Arizona-Mexico border, including one—from the point of view of a border agent—that she confessed she'd been afraid to read aloud until now.

But none of the writers who took the stage that day got there by being timid. Bermejo's poem was gripping, sobering, and threaded with moments of unlikely connection. After the reading, writers and audience members mingled over wine, cheese, and strawberries. Not surprising, several audience members who had novels and poetry collections in the works wanted to know when the contest would be offered again.
Photos: Top: Allison Benis White. Bottom: back row, from left: P&W staff members Cheryl Klein, Andrew Wessels, and Jamie FitzGerald; front row: Larry Colker, Laura Joyce Davis, Allison Benis White, Sean Bernard, Xochtil-Julisa Bermejo. Credit: Alberto Vega.
The California Writers Exchange contest is made possible by a generous grant from the James Irvine Foundation [11].