Jade Foster is the founder of the salon styled poetry tour THE REVIVAL, which has connected over two thousand women across the United States and abroad. The third annual tour in 2012, funded via a successful Kickstarter campaign and supported in part by P&W, featured a troupe of queer women artists in D.C., Toronto, Detroit, Chicago, Cleveland, Atlanta, and Durham. Foster continues to use poetry as a tool in redefining American arts. To stay informed visit Cereus Arts [4]. Her own literary work has been published in magazines, including online at Clutch Magazine [5] and Elixher [6].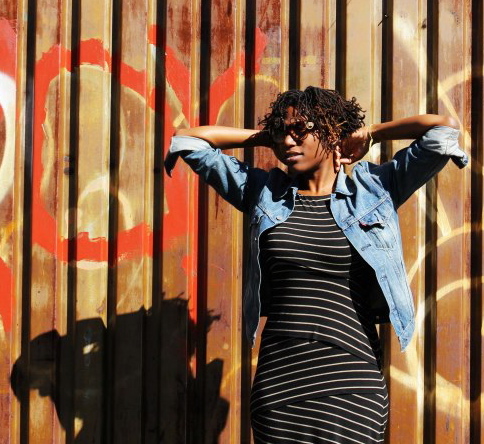 What are your reading dos?
I teach poetry to high school students, and we were just discussing what to do when you have a feature. First things first: Be prepared. Look like something. And definitely have options when it comes to your poems because you never know how large, small, or diverse your audience is going to be.

...and don'ts?
Never leave a reading early, or after you read. With the queer-women-led poetry tour THE REVIVAL, I share my work, but I also do a lot of the planning and set up, so I'm the last to leave. It's important to stay because you never know who you may meet or what kind of feedback you'll get on your process.

How do you prepare for a reading?
On the 2012 tour, we took the time to check in with each other and dedicated our performances to our ancestors at each and every show. It was the first time we did this, but I believe it really made a difference in our delivery, and helped us focus on our purpose as poets and conduits for the word.

What's your crowd-pleaser, and why does it work?
I don't want to please a crowd. Never! I want someone to get upset, to get outraged, to feel challenged to do more. There's so much we can do just by taking a small step toward our own selves.

What's the inspiration behind THE REVIVAL poetry tour?
THE REVIVAL started because I didn't fit in. I'm not a slam poet, I'm not an academic poet, and the open mics were boring me. Luckily, there were a few other women poets who felt the same way. A poem isn't finished until it's heard, so we all pooled our resources, reached out to friends and family to open their homes, and made it happen.

What do you consider to be the value of literary programs in the community?
We're in a peculiar place, on our own cliff...
I say it's time to jump. If folks are reading on Kindles, let's follow suit. If publishing houses are printing less, then let's print or come together to distribute our own work. Poetry is low-key in a vacuum right now—in a MFA middle-of-nowhere vacuum—and that's dangerous. It belongs to the people. THE REVIVAL is taking that jump and, like The Road Runner [7] in those old cartoons, we hit the ground running.

Photo: Jade Foster. Credit: Anna Barsan.
Support for Readings/Workshops events in Washington, D.C., is provided by an endowment established with generous contributions from the Poets & Writers Board of Directors [8] and others. Additional support comes from the Friends of Poets & Writers [9].