P&W-supported [3] poet James Arthur [4] recently gave a reading at Seattle's Hugo House [5] in celebration of Copper Canyon Press [6]. Arthur's poems have appeared in The New Yorker, The New Republic, Poetry, and The American Poetry Review. He has received the Amy Lowell Travelling Poetry Scholarship, a Wallace Stegner Fellowship, an Amy Clampitt Residency, and a Discovery/The Nation Prize. His first book, Charms against Lightning was published by Copper Canyon Press in October 2012. Event coordinator Elaina Ellis blogs about the event below, and has a few questions for Arthur.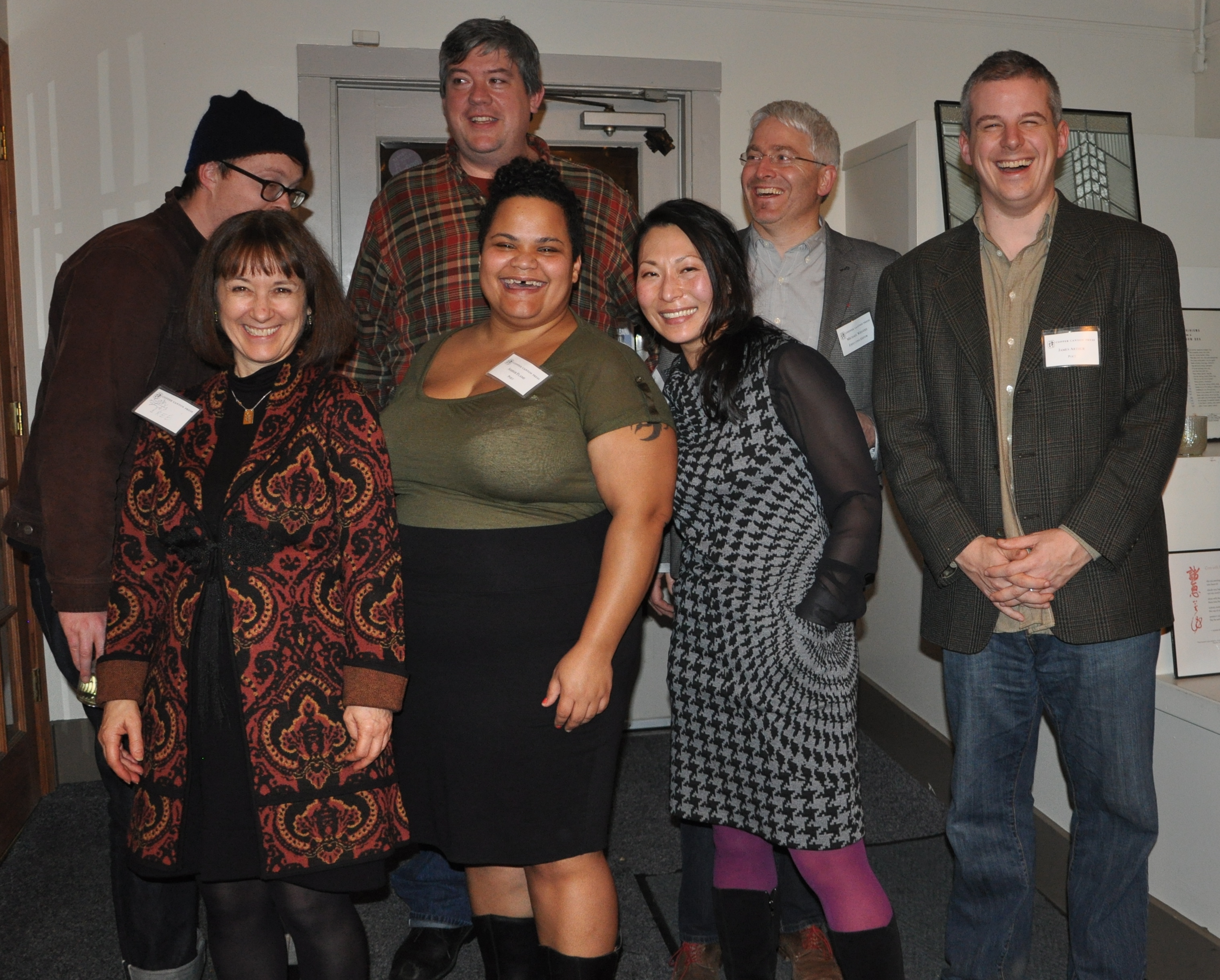 Who do I write for?
For you, and everything alive inside of you.
                --Vicente Aleixandre

On December 14, Copper Canyon Press launched our fortieth anniversary celebration at Seattle's Richard Hugo House, elbow to joyful elbow with nearly two hundred of our closest friends. This was no typical end-of-year soiree, and it was definitely not your average poetry reading. It was a poetry party, and it was every bit as nerdy and exciting as that sounds.

For the first hour of the event, we simply let conversations unfold. Highlights in the crowd included the teenager who shyly inquired how she might learn to write poetry; the seventy-three-year-old visual artist who told us, "I came for the food, I'm staying for the poems"; and faces from all corners of the literary world, including booksellers, slam poets, and teachers.

At  eight p.m. we ushered the crowd into the theater, where local writers including Ed Skoog and Matthew Dickman performed the works of C.D. Wright, Hayden Carruth, June Jordan, Natalie Diaz, and Pablo Neruda. Our featured poet for the evening, James Arthur, gave an impassioned reading that was supported by Poets & Writers. He was met with audible enthusiasm from listeners, and we couldn't help but hope that this room might represent the future of poetry. We asked James to share his thoughts below:


We had quite a lively crowd at this particular reading. How does the character of an audience impact you?
 
I depend on the crowd's enthusiasm. When an audience is excited, I get excited. If an audience seems bored, I take that to heart. I know some poets feel uncomfortable reading their poems publicly, and are writing primarily for the solitary, silent reader; I have no argument with those writers. But I want my poems to be heard. Half the meaning is in the rhythm.
 
Readers today seek poetry in a variety of venues: e-books, YouTube, poetry slams, and of course that old-fashioned bookshelf. Where do you hope poetry goes from here?
 
E-books and the internet have already affected how poetry is published, and I'm sure they're affecting how poetry is written, too. My method is pretty old-fashioned; I go for long walks, I look at the things around me, and I compose my poems by sound association.
I try not to cultivate any prescriptive ideas about how poetry in general should develop. It's easy to get drawn into arguments about how poetry should be, and about how other people should write—but for me, at least, those debates are unhealthy. They eat away at my doubt and curiosity, and those are the two qualities that a poet needs most.
Who do you write for?

I want my poems to explore serious questions and still be widely accessible. I write for anyone who's listening! 
Photos: Top: "poetry party" participants (James Arthur is on the right). Credit: Hugo House. Bottom: James Arthur. Credit: Shannon Robinson.
Support for Readings/Workshops [3] events in Seattle is provided by an endowment established with generous contributions from the Poets & Writers Board of Directors [7] and others. Additional support comes from the Friends of Poets & Writers [8].