Longtime P&W–supported poet and playwright Bob Flor blogs about attending readings.
Many of the P&W–supported Pinoy Works Expressed readings have led to the discovery of local Filipino writers, such as Toni Bajado, Oliver de la Paz, Rick Barot, Michelle Penaloza, Rebecca Mabanglo-Mayor, Geronimo Tagatac, Donna Miscolta, and Peter Bacho. Much of the Filipino communities in Seattle and around Puget Sound were unaware of the literary richness of their city. Readings at the Pagdiriwang Festival [3], Seattle University [4], and the University of Washington [5] has led these Filipino writers to receive invitations to read at Washington Poets Association-Burning Word! [6], Elliott Bay Bookstore [7], Open Books: A Poem Emporium [8], and Richard Hugo House [9], among other venues.
I becam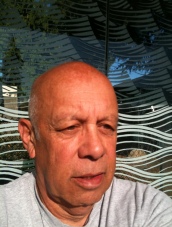 e interested in playwriting around 2005 but quickly realized I didn't know what I was doing. At a P&W–supported reading, I learned that Toni Bajado, a writer I've worked with before, wrote plays as well as poetry. Her play Fish won the Diversity Scholarship From Freehold [10]. A major benefit of attending readings is the ability to share work, information, and resources with other writers. Readings also provide the chance to share and gather commentary about scenes.
Though I've also taken a few at Freehold Theatre [11], I'm currently taking a course at ACT Theatre [12]. There are usually fewer than twelve participants, and the writing exercises include table readings and work revisions. My most recent play The FAYTS–Filipino American Young Turks incorporates balagtasan, a popular form of poetic debate in the Philippines. I learned about the form during a P&W–supported reading I attended, then created one as part of a scene for my course.
Photo: Robert Francis Flor.
Support for Readings/Workshops [13] events in Seattle is provided by an endowment established with generous contributions from the Poets & Writers Board of Directors [14] and others. Additional support comes from the Friends of Poets & Writers. [15]