P&W has supported poet John Murillo [3]'s readings and workshops with organizations such as Page Meets Stage [4], the Gwendolyn Brooks Center [5], and Insight Arts [6]. His first poetry collection, Up Jump the Boogie (Cypher 2010), was a finalist for the 2011 Kate Tufts Discovery Award and runner up for the PEN Open Book Award. This fall he joined the University of Miami [7]as visiting assistant professor of creative writing. Murillo generously shared some of his experience as a writer with us.
What are your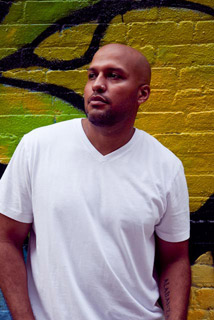 reading dos?
Always be considerate of your co-features and adhere to schedule. It's never a good look to read so long that other readers have to decide, on the fly, which of their poems to cut from their set.

… and your reading don'ts?
Don't ignore your audience. Sounds like a no-brainer, but I've suffered through too many readings where poets simply read poem after poem without any interaction with the crowd. Hearing poems read aloud and reading from the printed page are different experiences—each offering something you can't get from the other—and should be treated as such. Introduce poems, tell a joke or two. Let the people get to know you a bit, spend some time. If we (the audience) wanted only the words printed on the page, we could read to ourselves at home... for free.

How do you prepare for a reading?
The first thing I need to know is how much time I have. Then, I plan my set—not just timing the poems themselves, but allowing time for interaction—to fit within those parameters. I'll spend time with the poems I've chosen, reading them aloud, listening for the music or lack therein. I imagine how certain poems may land with certain listeners—emotionally, sonically, etc.—and try to create an arc that provides them with an experience worth leaving the house for. I sometimes do breathing and voice exercises too, to keep my "chops" up.

What's your crowd-pleaser, and why does it work?
In the past, I've read poems I myself didn't care for too much, simply because of the way I knew audiences would react. I'd get a laugh or two, maybe some applause, but nothing like a real connection. I've realized over the years that people just want to hear good poems. Typically, the same poems that "work" on the page also read well live. No matter the venue. The danger for me lies in relying too heavily on these poems, becoming too comfortable reading poems I know will go over well. There's very little vulnerability in that and if one isn't careful, that laziness can creep into the writing, and then the poems themselves become safe. To hell with that.

How does giving a reading inform your writing and vice versa?
I believe poems are meant to be shared, read, and listened to. From one's lips to another's ear, or from one's hand to another's eyes, no matter. The live reading is something that never lets me forget that I am a human being reaching out to, trying to communicate with, other human beings. This definitely affects the choices I make when writing and revising.

What's been your most rewarding experience as a writing teacher?
What I love most is when students begin to claim their own voices. In a society that cultures young people into silence and, by extension, apathy, there are few things as powerful as a young writer asserting her right to be heard. And there are few things as satisfying for the teacher as knowing you had a little hand in the midwifing of this new and necessary voice.

Photo: John Murillo. Credit: Rachel Eliza Griffiths.

Support for Readings/Workshops events in Chicago is provided by an endowment established with generous contributions from the Poets & Writers Board of Directors [8] and others. Additional support comes from the Friends of Poets & Writers [9].
Support for Readings/Workshops in New York City is provided, in part, by public funds from the New York State Council on the Arts [10], and the New York City Department of Cultural Affairs [11], with additional support from the Louis & Anne Abrons Foundation, the Axe-Houghton Foundation, the A.K. Starr Charitable Trust, and the Friends of Poets & Writers [12].