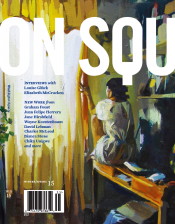 Circulation:
Less than 1,000
Genres Published:
Poetry, Fiction
Reading Period:
Aug 1
-
Oct 15
Reporting Time:
3 to 6 months
Accepts Electronic Submissions:
Yes
Accepts Simultaneous Submissions:
Yes
Accepts Unsolicited Submissions:
Yes
Payment:
Contributor copies only
Editorial Focus
Washington Square is an innovative, nationally-distributed literary journal publishing fiction, poetry, and visual art by emerging and established writers and artists. Edited and produced biannually by the students of the NYU Graduate Creative Writing Program. Washington Square now also includes transcriptions of New Salon interviews that have taken place at the Lillian Vernon Writers' House. In addition, a new Portfolio provides space for visual artists and photographers to display their work. The editorial staff has also committed themselves to a renewed focus on translation.
Contact Information
Please note: The information provided in this database is provided by the magazines listed in it.
Last updated: May 12, 2015