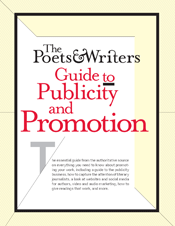 Product Details
Price: US$ 4.99
Page Count: 53
Publication Date: Jul 1, 2015
File Format: PDF (Adobe Reader)
Looking to promote and publicize your book?
This comprehensive guide provides expert advice from industry professionals and experienced authors on harnessing social media, organizing book tours, giving inspired readings, targeting news outlets, and more.
A collection of articles edited by the staff of Poets & Writers Magazine, our guide to publicity and promotion is the essential resource for forming and tackling a marketing plan to get the attention your work deserves, including:
A guide to the publicity business
How to capture the attention of literary journalists
Launching a best-seller without selling your soul
Social media for authors
The key to successful video marketing
How to amplify your poems with audio
Giving inspired readings
Getting your self-published book reviewed
The do-it-yourself book tour
How to keep the buzz alive
This file is in PDF format and requires Adobe Reader, available free from Adobe Systems, or other software capable of reading PDF files.