For ten years, ecological artist and sculptor Ana Flores of Charlestown, Rhode Island, has been bringing "Poetry of the Wild"—a series that "connects people to landscape by combining poetry, visual art, and nature observation"—to communities across the country and abroad. The project showcases "poetry boxes," small handmade vessels constructed of recycled materials and installed in locations both public and wild, such as parks, forests, waterfront trails, and libraries. Written, etched, or pasted inside each box is a poem—some original, some classic, from poets both established and emerging; the boxes themselves are designed to "reflect the chosen texts within them" and encourage people to engage with the land around them.
The project began in 2003 when Flores was an environmental artist-in-residence at the Wood-Pawcatuck Watershed in Rhode Island. Walking along the trails and rivers, she noticed both an abundance of trash and a collection of small birdhouses, which the local government had erected. She decided to build similar structures with poems inside for people to discover along similar trails—and with a little luck, leave a part of themselves, rather than trash, along the way. The first box was installed in Mystic, Connecticut, through a collaboration with the Mystic Arts Center; Flores has since brought the project to communities throughout the United States and abroad, including New London, Connecticut; Colorado Springs; and Dartington, England, through partnerships with the Audubon Society, the Connecticut Commission on Culture and Tourism, and other environmental and arts organizations. Each box also contains a small journal for passersby to write their own poems and record responses to the work.
"At first people would find them by accident," Flores says, "and then they would go looking for them." While the first boxes were constructed and installed by Flores herself, the goal of the project was to get community members involved. "It isn't about me," she says, "it's the words and creativity of the communities that make the project work." In the two most recent installations—one that ran along a path by the sea at the University of Connecticut at Avery Point, and a second at the Mystic Arts Center—community members did most of the writing and building. "The more they do," Flores says, "the more it's theirs." One of the most thrilling things about the project, she says, has been the diversity of people taking part, from professional and amateur poets and artists to more unexpected contributors. In Mystic, for example, two young children ages nine and ten contributed original poems. "The project is a catalyst for community and individual creativity that's unpretentious," Flores says. "It breaks down inhibitions about what art and poetry are, and helps people think about the places where they live. There's something about the project that allows people to say, 'Okay, I can do this.'"
Poetry of the Wild will celebrate its tenth anniversary at the Mystic Arts Center on September 25; contributing poets and artists will read and display their work and a selection of boxes will be auctioned. Flores, meanwhile, plans to continue the project both at home and overseas, and will be launching an official website later this fall; in the meantime, news about Poetry of the Wild can be found at www.earthinform.com.
Melissa Faliveno is the assistant editor of Poets & Writers Magazine.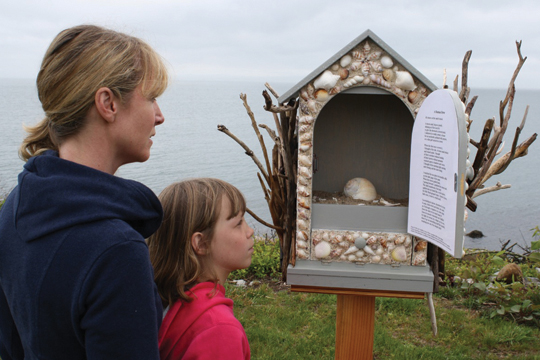 Credit: Ana Flores
Young poet Lucy Turner and her mother, Pam, study a poetry box at Avery Point.