Ifeanyi Menkiti was born in Onitsha, Nigeria. He is a professor of philosophy at Wellesley College, and author of the poetry collections Before a Common Soil (Ilora Press, 2007) and Of Altair, the Bright Light (Earthwinds Editions, 2005). He is the owner of the Grolier Poetry Book Shop in Cambridge, Massachusetts, the nation's oldest poetry bookstore.

Boston is an old city and it is also a young city. The city of Emerson, Thoreau, and the Transcendentalists has produced many prominent writers in its past, but it is also a city whose literary history is still in the making. One reason is the sheer number of young people who come to attend the area's colleges and universities, many of them staying on after graduation, either to attend graduate school, or to settle down and try their hands at a literary career. In Boston within the literary clientele there is a robust mix—the old and the young, the settled and the itinerant, the native born and the foreign born—all of them searching for wisdom, inspiration, or comfort in the written word; or searching for entertainment in those venues where literary performance takes off with comedic zeal. Whether one's focus is fiction or nonfiction, poetry or the spoken word, there is plenty to keep one occupied in the greater Boston metropolitan area.
I have lived in the Boston area since 1969. I was born in Onitsha, Nigeria, in the Umuezearoli Village of old Onitsha on the banks of the Niger River. The village knows a thing or two about the ceremonies of traditional leadership, the obduracy of ritual in the settled lives of peoples. There was song in the air, song to accompany all kinds of ceremony, both public and private. Words carried their own internal dignity; they came with an unobstructed natural grace, and the rule seems to have been: If you cannot speak well, then do not speak.
I arrived in Cambridge after attending Pomona College in Claremont, California. At Pomona there was a robust international presence. It was there that my eyes were opened to the fact that the world of ceremonial peoples embraced the entire globe—that other cultures of the world had their rituals just as rich as ours. They too had their song, their incantations, the cadences and flow of their own tribal speech. I could see that something special could be made to emerge in terms of the symbolisms of a united world and that literature, especially poetry, could make a contribution.
The reason I came to Cambridge after spending a few years in New York City was to pursue graduate studies in political philosophy at Harvard University under John Rawls. I have been teaching philosophy at Wellesley College for over thirty-five years.
In 2006 I became the owner of the Grolier Poetry Book Shop in Cambridge, the nation's oldest bookstore devoted exclusively to poetry. Of the Grolier, Robert Creeley has said: "Poetry is our final human language and resource. The Grolier is where poetry still lives, still talks, still makes the only sense that ever matters." As to buying the Grolier, I must confess that at first glance it appeared like asking someone whose sea legs were uncertain to assume control, to join duty as an admiral of the high seas. I knew little about retail. And my computer skills, on a scale of one to ten were closer to zero than they were to one. So let me just say that I purchased the Grolier and have tried to keep it alive simply because of the movement of the heart's affections. It is indeed a most unlikely story, this story of an aging African trying to save a famed American poetry bookstore. But maybe one can blame it on the villages of old Onitsha, or blame it on Pomona College, or on the push of the common soil beneath our several feet. In any case, as I have said to myself, if one has to run a poetry bookshop there is no better place to do it than in the greater Boston area.
Below is a sketch of some of my favorite literary places, resources, and happenings in the Boston area: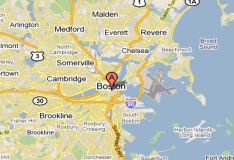 Bookstores
The Grolier Poetry Book Shop (6 Plympton Street) is eighty-four years old. It has stood in the same spot since 1927, in the shadow of Harvard University and with the university as landlord. But notwithstanding the rental situation, the shop is otherwise independent of the university. From all accounts it appears to have been partly started to help break down what was felt by the founders to be a stodgy approach to literary matters on the part of universities everywhere. Over the years the Grolier became well known with its reputation enhanced by an association with the likes of T. S. Eliot, E. E. Cummings, Robert Lowell, Marianne Moore, Donald Hall, and many others. John Ashbery, Frank O'Hara, Kenneth Koch, all products of Harvard College, knew the Grolier as undergraduates, before their work, their lives, became identified with the nation at large. Allen Ginsberg, Robert Pinsky, Maxine Kumin, David Ferry, and Frank Bidart have all read for the store, or support it in various ways. Poets of a younger generation, too numerous to mention here, have also supported the store, or found support in it. Natasha Trethewey, a winner of the Pulitzer Prize in poetry, was a discovery of the Grolier Poetry Prize earlier on in her career. The prize was established by Louisa Solano—who owned the store for thirty-five years, having purchased it from the estate of the original owner Gordon Cairnie—to discover and promote new talent. Solano sold the store in 2006 after many years of nurturing its national and international reputation and supporting young poets. The Grolier continues to support the work of poets, young and old, through the sale of their books, through book signings, and through an active sponsorship of a forty-year-old reading series. The store is a small space, but it carries the weight of its unique history and its hope is to continue for another hundred years and beyond.
There are other fine bookstores, which also support the writerly life. The Grolier's neighbor, the Harvard Book Store (1256 Massachusetts Avenue), also sponsors author readings and events. A much larger operation, and independently owned, it is well connected to the local community and has a substantive inventory of general interest books. The bookstore even has one of the rare Espresso Book Machines on premises that can print books in minutes direct from digital files.
The Trident Booksellers & Cafe (338 Newbury Street), the Brookline Booksmith (279 Harvard Street) in the Brookline section of greater Boston, and Porter Square Books (25 White Street) in Cambridge's Porter Square maintain an intimacy of space with readings, book signings, and special events. An additional feature of the three bookstores is that one can treat oneself to a cup of coffee, a slice of pumpkin bread (or other assorted pastries) while waiting for the readings to begin—or after an hour or two of browsing.
Other shops devoted to used or specialty books include the Bryn Mawr Book Store (373 Huron Avenue, Cambridge); Rodney's Bookstore (698 Massachusetts Avenue, Central Square, Cambridge); McIntyre and Moore Booksellers (1971 Massachusetts Avenue, near Porter Square); Raven Used Books (52-B John F. Kennedy Street, Cambridge), which specializes in scholarly titles; and Lame Duck Books (12 Arrow Street, Cambridge), which has an emphasis on rare literature. These stores do a good part of their business through mail order and the visitor, once in a while, is able to land a real bargain.
Reading Series, Venues, and Events
Boston also has a rich array of nonbookstore establishments where literary events occur, almost everyday of the week. The Blacksmith House Poetry Series, founded by Gail Mazur and sponsored by the Cambridge Center for Adult Education, is held weekly at the historic Blacksmith House (42 Brattle Street) and features emerging and established writers of poetry and (despite the series' name) fiction.
Tapestry of Voices, founded by local poet Harris Gardner, partners with the Kaji Aso Studio Institute for the Arts and the Boston Public Library to produce a well-attended two-day event, the annual Boston National Poetry Month Festival in April, which features readings by high school students and established and emerging poets.
Gardner has also recently partnered with Gloria Mindock of Cervena Barvá Press to organize a new reading series, the First and Last Word Poetry Series, held at the newly renovated Armory Building (191 Highland Avenue) in Somerville.
Founded in 1915 by Amy Lowell, Robert Frost, and Conrad Aiken, the New England Poetry Club is the oldest reading series in the country. There is no better way to spend a Sunday afternoon in the summer than under the huge linden tree at the Longfellow House (105 Brattle Street) in Cambridge. The highlight of the summer readings is the Golden Rose Award, which is presented to a poet—past recipients include Sharon Olds, Mark Strand, Mary Oliver, and Carolyn Forché—"who by their poetry and inspiration to and encouragement of other writers, have made a significant mark on American poetry." In the winter the reading series moves indoors to the Harvard-Yenching Library (2 Divinity Avenue).
In addition to its regular reading series, which is open to the public, the famed Woodberry Poetry Room at Harvard's Lamont Library holds a treasure trove of poetry books, audio recordings, and rare materials. Inaugurated with the Harvard recording of T. S. Eliot reading Gerontion and The Hollow Men in 1930, the archive now includes such voices as W. H. Auden, Elizabeth Bishop, Joseph Brodsky, E. E. Cummings, Denise Levertov, Robert Lowell, Sylvia Plath, Anne Sexton, as well as recent readings by such poets as Mary Jo Bang, Ilya Kaminsky, and Joanna Klink.
The popular Stone Soup Poetry series—established over thirty years ago by the late Boston icon, Jack Powers, and currently hosted by Chad Parenteau, who welcomes all styles of poetry—is held every Monday night at the intimate Out of the Blue Art Gallery (106 Prospect Street, Cambridge) in Central Square, where readers are surrounded by the artwork of various local artists.
The Pierre Menard Gallery (10 Arrow Street, Cambridge), the brain child of John Wronoski, does not have a series named after it, but has played host and is home to various readings and events sponsored by many different groups in the area, including the Grolier Poetry Book Shop and Cervena Barvá Press. Wronoski is the owner of the gallery and also of Lame Duck Books. The gallery is a beautiful space that exhibits works by well-known artists.
The Fireside Reading Series founded by Molly Lynn Watt, now in its eleventh year, holds readings once a month, usually on a Tuesday, in the Cambridge Cohousing living room (175Richdale Avenue), near Porter Square.
The Cantab Lounge (738 Massachusetts Avenue) in Central Square is home to a poetry slam every Wednesday night at 8 PM. Slam poetry is also featured at the Lizard Lounge (1667 Massachusetts Avenue) in Cambridge, every Sunday at 8 PM.
Various public libraries, such as the Newton Free Library (330 Homer Street), Watertown Free Public Library (123 Main Street), the Public Library of Brookline (361 Washington Street), and Cambridge Public Library (449 Broadway) have hosted and continue to host readings and literary events.
Worthy of mention, too, though not in the immediate Boston area, is Wake Up and Smell the Poetry, the Saturday morning series begun almost ten years ago by Cheryl Perreault in the town of Hopkinton, known to folks around the country as the town where the historic Boston Marathon begins. The readings are often accompanied by music and are broadcast on local television.
The Boston Book Festival, held annually in October, continues to advance the cherished aspirations of writers, citywide and statewide, with panels, workshops, music, signings, and bookselling.
Literary Groups
Bagel Bards, a five-year-old group cofounded by Douglas Holder of Ibbetson Street Press and Harris Gardner, is not a writing workshop—though those who come can, if they wish, bring work to share and receive feedback from other members—but rather a dedicated group of area poets and writers who meet every Saturday morning for company and support in Somerville's Davis Square at the Au Bon Pain (18-48 Holland Street). (They even have a permanent symbolic home at the coffee shop, as management has allowed members to have a plaque in the corner where they meet behind the muffin case.) Important parts of the meetings are recorded for future reference by a designated member with the title of "Word Catcher." There is no fee to belong or join the Bagel Bards. All that is needed is a willingness to bring oneself to Davis Square on Saturday mornings, maybe purchase a bagel or two, or a steaming cup of coffee, so as to keep the management happy. Last year poet Clayton Eshleman paid a surprise visit to the Bards while he was in town and had warm things to say about the group and its spirit. Other prize-winning authors such as Kathleen Spivack, Afaa Michael Weaver, and Mindock can be found holding court there. A Bagel Bards anthology is also published annually.
Members of the Poetry Study Group (the "Athenæum Group," as it's informally known) meet monthly—to read the work of a selected poet, discuss it, and exchange thoughts about the general condition of poetry—at the Boston Athenæum (10 1/2 Beacon Street), which is described as "one of the oldest and most distinguished independent libraries and cultural institutions in the United States." Founded in 1807, its collections number more than a half million volumes. In 1966 it was named a National Historic Landmark. With its upper floors overlooking the historic Granary Burying Ground, the Athenæum is indeed a special place for poetry, especially if one is inclined toward the poetics of historic spaces.
The Indian Poetry Reading and Study Group, which sponsors the annual India Poetry Reading at Harvard, is convened by Dr. Bijoy Misra and hosted by the Outreach Committee of the Department of Sanskrit and Indian Studies at the university. At each of the annual gatherings, which are open to the public, poems are first read in their original languages followed by translations. The poets meet every quarter.
The Robert Frost Foundation in Lawrence, Massachusetts—a nonprofit organization dedicated to promoting the life and work of the poet and especially his connections to the city—sponsors poetry readings and discussions, offers a Robert Frost Award, holds an annual Robert Frost Festival, and has a poetry platform on a pushcart at the local farmers market where children and teachers bring their poems. It also sponsors a Robert Frost self-guided trail that tours Frost locations throughout the city of Lawrence.
The Boston Haiku Society meets the third Saturday of every month at the Kaji Aso Studio (40 Saint Stephen Street) in Boston's Back Bay area. The society's mission is to promote the reading and writing of haiku poetry in the English language. Readings take place in various venues from time to time. A fifteen-dollar membership fee entitles members to a monthly newsletter and the society's anthology of Haiku, voice of the peeper.
Places to Write
There are in the Boston metropolitan area many places in which one can sit and write, or stand and write for that matter, and be in the midst of nature: the Forest Hills Cemetery (95 Forest Hills Avenue, Jamaica Plain) whose two hundred fifty acres offer a magnificent arboretum, a pond, an open air museum of Victorian sculpture, and a tranquil sanctuary. Poets E. E. Cummings and Anne Sexton are buried there. The wide expanse of the Emerald Necklace park system (the Emerald Necklace Conservancy is located at 125 Fenway), the vision of Frederick Law Olmsted, runs for seven miles from Franklin Park, across from the Forest Hills Cemetery, through the Arnold Arboretum, Olmsted Park, Riverway, and the Back Bay Fens before making its way down Commonwealth Avenue to the Public Garden and the Boston Common near Beacon Hill, offering those who wish to compose, while driving or walking, views of an urban bucolic. Mount Auburn Cemetery (580 Mount Auburn Street) in Cambridge, and the banks of the Charles River, also offer an additional source of inspiration for the writer who leans toward the quiet, the slow, and the meditative. Thoreau's Walden Pond (off Routes 2 and 126) comes to mind here also though things have obviously changed much since Thoreau wrote in his little cabin in Concord.
With over one hundred acres of sloping hills, meadows, and pastureland, St. Joseph's Abbey (167 North Spencer Road)—a Trappist Monastery in Spencer where contemplative monks of the Cistercian Order live in silence and solitude—offers writers unusually beautiful and peaceful surroundings. A retreat house for lay people is provided, with meals included. Morning, noon, and evening services in the monastery church are optional. Reservations need to be made six months in advance.
There is also the kind of inspiration that is provided by places such as the Café Pamplona (12 Bow Street), the Algiers Coffee House (40 Brattle Street), and Club Passim (47 Palmer Street)—all three in Cambridge on the other side of the Charles. Café Pamplona, in Harvard Square, is a small café that has been in operation since 1959 without much change. The coffee is rich and dark. In warm weather the café offers outdoor seating, which is usually filled with professors from Harvard, and local poets who often ply their trades there.
There are also certain locations outside the immediate Boston area where a number of important poets have maintained a historic connection. One of these places is Provincetown (P-town as it is affectionately known) and the other is Wellfleet. One can venture out of Boston to the tip of Cape Cod to visit the Fine Arts Work Center (24 Pearl Street) in Provincetown. The center is deservedly well known, made famous by many things, among them its association with Stanley Kunitz, whose long life and iconic poem "The Layers" helped define, in no small measure, American poetry in the second half of the twentieth century. And close by Provincetown are Truro and Wellfleet where Mary Oliver has done some of her writing, inspired by the natural landscape of marshes and estuaries, calling out to all of us to stop and take note of what the grasshopper or the small birds in the marshes have to teach. Her publisher, Beacon Press, is in Boston, but her inspirational life stretches out to the Cape with its abundance of small creatures, all of them with wisdom larger than the smallness of the bodies they carry with them. And there is, of course, the story of Charles Olson and his historic links to Gloucester.
Educating for and with Literature
There also are establishments that aim to educate the city's residents in the literary arts, in which writers can volunteer or participate. The William Joiner Center at the University of Massachusetts Boston (100 Morrissey Boulevard) offers the Warrior Writers Project and the Odysseus Project, workshops to help give recent veterans a place where they can feel comfortable and where they can explore and discover writing with other veterans. The William Joiner Center is also now the home of the Ellen LaForge Poetry Prize, formerly known as the Grolier Poetry Prize.
Boston's Grub Street (160 Boylston Street), founded in 1997 by Eve Bridburg, describes itself as "a nonprofit creative writing center dedicated to nurturing writers and connecting readers with the wealth of writing talent in the Boston area." Students learn writing and the marketing of the finished work. They also get to connect with editors and publishers. Grub Street is a uniquely Boston institution, with a vibrant community of aspiring writers that is still growing.
The Books of Hope project is a literacy empowerment program that brings creative writing to urban and immigrant youth. It was founded in 1999 by author Anika Nailah in collaboration with the Mystic Learning Center and the Somerville Arts Council. It is designed to channel the energies of at-risk young people into creative outlets. Through the teaching of creative visualization, original book design and production, publicity, and other skills associated with a writer's life, Books of Hope helps these youth, ages thirteen to twenty-three, to write and produce their own books (be they poetry or fiction), and then finds venues at which they can read and sell their work. The result is that the young people begin early on to take themselves seriously as writers.
Some far-flung jurisdictions of the poetry and fiction writing workshops include the Truro Center for the Arts (10 Meetinghouse Road) in Truro and the Concord Poetry Center (40 Stow Street) in Concord, which describes itself as "devoted solely to the craft and celebration of the poetic form." Directed by Joan Houlihan, the Concord Center holds workshops, seminars,classes, and community readings.
I have come to enjoy and appreciate Boston over the years not only because it is where I have raised my family but also because the city is, academically speaking, a well-appointed place, and it is also a writer-friendly city.
Obviously, the places I've mentioned are not the only ones for writers, but they are the ones that have found connection with my life, either directly or indirectly. Perhaps this year I will get to visit many more historic writers' homes than in the past—for example the home of John Greenleaf Whittier (86 Friend Street) in Amesbury, or his birthplace (305 Whittier Road) in Haverhill. The Concord homes associated with Emerson (28 Cambridge Turnpike), Thoreau (341 Virginia Road), Louisa May Alcott (399 Lexington Road) are already familiar places.
Looking at Boston, I think of the story of Afaa Michael Weaver, a black man and a poet who lives in the area and teaches at Simmons College. It is a story that reminds us of the reasons why literature still matters. Born in Baltimore, with poverty all around him, Weaver today can be found holding court with his students at Simmons College. Weaver also speaks fluent Mandarin, having visited and spent time in China several times. Weaver's story is the story of one man, but also the story of literature. The strands of a life come together, as only literature can manage to make it happen. The American is there, so is the black American. The global is also there, by way of the Chinese. And it is a Boston story all the way.
Credit: Nina Goffi