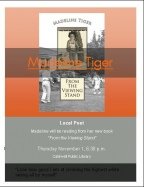 In which languages are you fluent?:
Raised in:
NY, Hewlett, South Orange,
NJ
New Jersey
Prizes won:
Pick-of-the-Month, May-June, 2003, by "Small Press Review," for "Birds of Sorrow and Joy: New and Selected Poems, 1970-2000", Marsh Hawk Press, 2003. Pioneer Teaching Artist Award of the New Jersey Arts Education Collective, 2008. Indian Summer Poetry Competition Manuscript Prize from Still Waters Press for Mary of Migdal, 1990.
What I'm reading now:
Zarina, Paper Like Skin (about her art work)
by
stories of Eudora Welty
by