Submissions Open for Graywolf Nonfiction Prize
Submissions are open for the 2018 Graywolf Press Nonfiction Prize, given biennially for a nonfiction manuscript-in-progress by a writer not yet established in the genre. The winner will receive $12,000 and will work with the Graywolf editorial team to complete the project for publication.
graywolf.png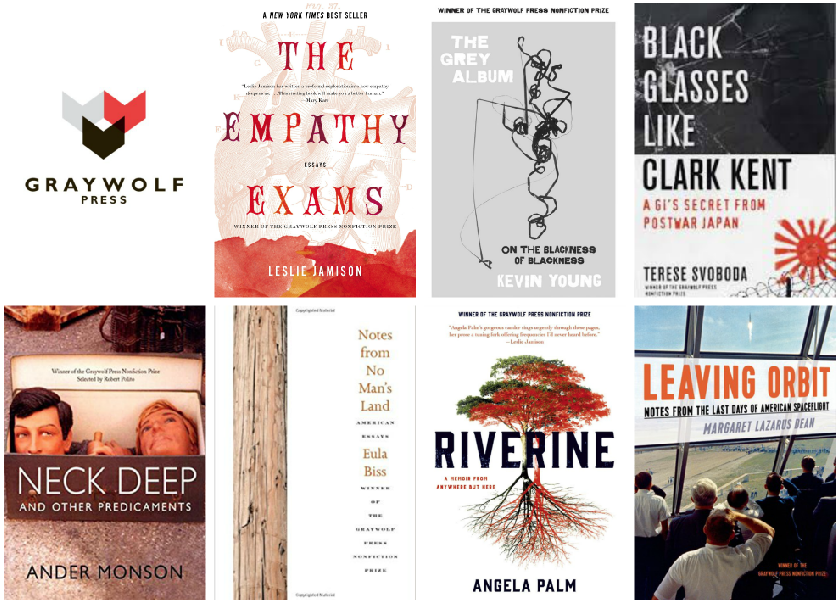 Writers who reside in the United States are eligible; no prior publication is required. Submissions to the prize may include memoir, essay, biography, and history. Using the online submission system [1], submit a one-page cover letter, a two- to ten-page overview of the project, and at least 100 pages of the manuscript by January 31. There is no entry fee.
The editors will judge. "The [prize] emphasizes innovation in form, and we want to see projects that test the boundaries of literary nonfiction," write the editors. "We are less interested in straightforward memoirs."
Esmé Weijun Wang won the prize in 2016 for The Collected Schizophrenias [2], an essay collection that addresses the social, historical, medical, and spiritual aspects of schizophrenia. Angela Palm won in 2014 for her book about growing up in a small river town in rural Indiana, Riverine: A Memoir From Anywhere But Here [3]. Margaret Lazarus Dean won in 2012 for Leaving Orbit: Notes From the Last Days of American Spaceflight [4], and Leslie Jamison won in 2010 for The Empathy Exams [5].
Founded in 1974, Graywolf Press is considered one of the leading nonprofit literary publishers in the country. The press is "committed to the discovery and energetic publication of contemporary American and international literature." Visit the website [6] for more information.