P&W-funded Regie Cabico blogs about a whirlwind week of readings and workshops. He is the coeditor, with poet and novelist Brittany Fonte, of the recently published anthology of queer poetry and spoken word, Flicker and Spark (Lowbrow Press). His own work has appeared in over thirty anthologies, including Aloud: Voices from the Nuyorican Poets Café, Spoken Word Revolution, and Chorus & The Outlaw Bible of American Poetry. He received the 2006 Writers for Writers Award from Poets & Writers for his work teaching at-risk youth at Bellevue Hospital in New York. He is a former Artist in Residence at NYU's Asian Pacific American Studies Program and has served as faculty at Banff's Spoken Word Program. He resides in Washington, D.C.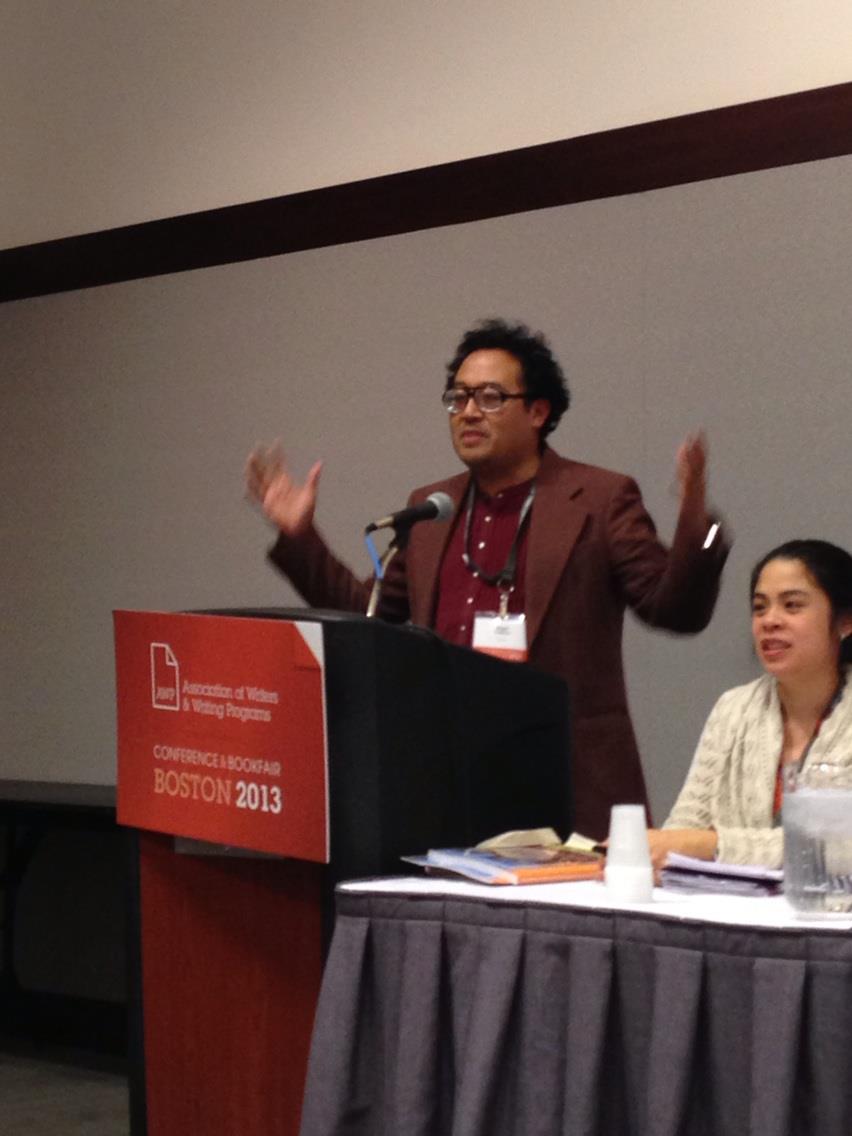 P&W-funded Kundiman, an organization that supports Asian American poets, has been an important resource for me as a teaching mentor, and the co-founders Sarah Gambito and Joseph Legaspi have been long-time supporters of my performance work. If I don't make it to the 2013 AWP Conference in Boston to attend their ten-year anniversary panel and party, it'll be like missing a wedding.
On the plane from D.C. to Boston, as we are about to take off, the pilot tells us that all flights in and out of Boston's Logan airport have been suspended. An hour later, they have to clean the ice on the wings. After watching JetBlue's History Channel entire program on vikings, we finally lift off.
My first reading starts at 7:30 PM. I arrive in Boston at 8 PM. My coeditor Brittany Fonte texts me, HURRY! and I finally get to the reading at 8:30 PM. I read two poems: Baruch Porras Hernandez' "Pursuit of Taconess" and J Mase the III's "Neighbor"—both hysterical pieces with serious messages about immigration and transphobia. It's a hit. Afterward, Nathaniel Siegel takes me out to a gay bar, where I sing "I Am What I Am" really badly.
On Thursday at 1:30 PM is the Flicker & Spark book signing. I spend thirty dollars on beverages and snacks at Trader Joe's. Three poets show up: Nathaniel Siegel, Dorothea Smartt from London, and Lenelle Moise. Brittany Fonte and I were hoping to find the other poets in the book and thank them.
On Thursday night, Kundiman had a very emotional intimate celebration at the Pucker Gallery. The room exploded with Prosecco, sushi, impromptu massages, and poetry whispered in our ears. Afterward, I take it easy and watch Project Runway with Kim Roberts, a poet and my housemate.
On Friday, I pray that my f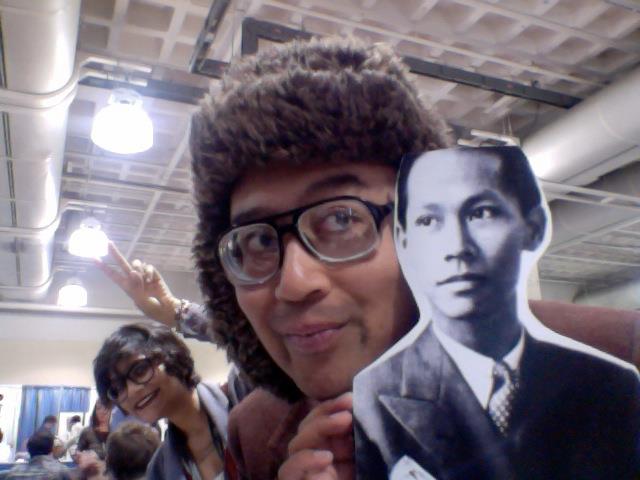 light to Madison will be on time. I am scheduled to perform at the Midwest Filipino Students Association. I am to give a workshop and a performance in the evening. I bring my bags to Friday morning's Kundiman panel. Myung Mi Kim, Paisley Rekdal, and I read poems and talk about pedagogy.
I leave Boston and its icy wind velocities. At the airport, I see Michael Cirelli, executive director of P&W-funded Urban Word. He confirms my hosting the slam finals on April 20 at The Apollo with rapper MC Lyte.
I can only think about getting to Madison. I get in at midnight. The next morning, my workshop has twenty students and my performance in the evening is a huge hit.
On Sunday, I am eating brunch with the students and comedian Rex Navarette. I insist that we all have a wholesome Wisconsin brunch with organic eggs and cheese. I get to my house at midnight. I will have a Poetry Out Loud workshop to do the next day along with an open mic feature for the Northern Virginia Gay Health Center at Busboys & Poets, and then I will host my weekly spoken word and cabaret show La-Ti-Do.
Once at home, I reflect back on my week. I have too many business cards that need to be sorted. I am totally drained, and it is not even National Poetry Month yet. But I am happy I saw Bonnie Rose Marcus, the director of Poets & Writers' Readings/Workshops (East), who reminded me to apply for D.C. funds while there was some money left. Through Poets & Writers' Readings/Workshops program, I've been paid for doing my community work.
Photos: (Top, from left to right:) Regie Cabico, Sarah Gambito. Credit: Oliver de la Paz. (Bottom, from left to right:) Soham Patel, Regie Cabico, and Regie's patron poet Carlos Bulosan.
Support for Readings/Workshops events in Washington, D.C., is provided by an endowment established with generous contributions from the Poets & Writers Board of Directors [3] and others. Additional support comes from the Friends of Poets & Writers [4].