Let's Talk: Funding for Detroit Literary Events
As May comes to a close and the temperature continues to rise leading into a long-awaited summer, in Michigan we are waiting to hear if stay-at-home orders will be extended beyond this month. Despite our limitations, literary events continue online and I am happy to announce that this Friday, May 29, we will be holding a panel to discuss funding opportunities from the Readings & Workshops program to help support these events.
I am excited to moderate this panel which will include Readings & Workshops program associate Ricardo Hernandez, and two guest authors, Aubri Adkins and Deonte Osayande, who will be speaking about their experiences securing funds for literary events in Detroit through the Readings & Workshops program.
Adkins is a writer and the founder of the East Side Reading Series, a Detroit literary series featuring original work from writers of all genres. I am interested to hear about her motivations behind establishing the series, and how these readings have made an impact on the literary community of the city.
Osayande is a widely published writer from Detroit, a poet recognized in many slam communities, and currently a professor of English at Wayne County Community College District. I look forward to speaking with him as he offers a variety of perspectives on intersecting literary communities.
I am looking forward to this conversation! I am expecting it to be rich with information not only about Readings & Workshops mini-grants but also about how the Detroit literary community is doing and how we can further connect with other communities.
The panel will be on Friday, May 29 at 5:00 PM EDT. Registration is required and space is limited, so register here. The meeting will also be recorded and made available to the public if you're not able to make it, but I do hope to see you there!
may_29_2020_meeting_flyer.jpeg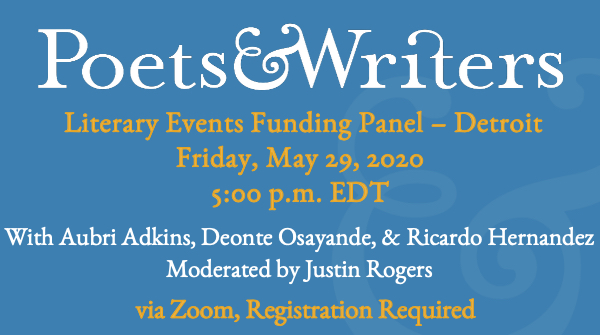 Justin Rogers is the literary outreach coordinator for Poets & Writers in Detroit. Contact him at 
Detroit@pw.org
[1]
 or on Twitter, 
@Detroitpworg
[2]
.