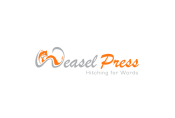 See writers who are published by this small press
Genres Published:
Poetry, Fiction, Creative Nonfiction
Subgenres:
Experimental, LGBTQ Voices, Graphic/Illustrated, Historical, Micro-poetry, Prose Poetry, Literary Fiction, Journalism/Investigative Reporting
Accepts Unsolicited Submissions:
Accepts Simultaneous Submissions:
Editorial Focus
Weasel Press has sort of a Beat Generation mentality when it comes down to it. When reviewing submissions to be accepted, we're looking for works that show explicit portrayals of the human condition. We love to be immersed! At this time we are only accepting Fiction, Creative Non-Fiction, Poetry and Scriptwriting/Playwrights.
Last updated: Feb 17, 2017