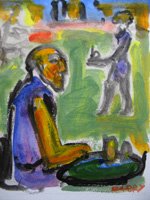 Genres Published:
Poetry, Fiction, Creative Nonfiction
Accepts Electronic Submissions:
Accepts Simultaneous Submissions:
Accepts Unsolicited Submissions:
Editorial Focus
Serving House Books is an imprint dedicated to selecting memorable poetry, fiction, and essays from throughout the world. Most of our authors already have significant publishing histories, winning many grants and awards. At the same time, we take pride in introducing new writers at the start of careers that will be equally successful.
Tips From the Editor
Please note that we do not read unsolicited submissions.
Contact Information
Walter Cummins, Co-publisher
Last updated: Feb 17, 2017