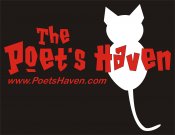 See writers who are published by this small press
Genres Published:
Poetry, Fiction, Creative Nonfiction
Subgenres:
Autobiography/Memoir, Commercial Fiction, Cross-genre, Experimental, Feminist, Flash Fiction, Graphic/Illustrated, Humor, LGBTQ Voices, Literary Fiction, Love, Micro-poetry, Narrative Nonfiction, Political, Prose Poetry, War
Book Types:
Chapbook, Novella, Short story collections, Memoir, Poetry collections
Publishes Through Contests Only:
Accepts Electronic Submissions:
Accepts Simultaneous Submissions:
Accepts Unsolicited Submissions:
Editorial Focus
The Poet's Haven is a place for artists across a wide and diverse spectrum to feel safe seeing their work published. We are open to unsolicited submissions from both experienced, published creators and talents new to submitting work for publication. We publish online galleries, chapbooks, anthologies, and audio podcasts.
Tips From the Editor
Please read the submission guidelines and follow the directions when submitting work. Failure to do so may result in the deletion of your submission. The Poet's Haven does not accept any submissions via postal mail, all submissions must be made through the online forms.
Contact Information
Vertigo Xavier, Publisher
Last updated: Sep 06, 2018