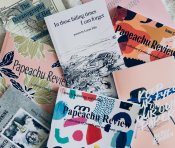 Genres Published:
Poetry, Fiction, Creative Nonfiction
Subgenres:
BIPOC Voices, Feminist, LGBTQ Voices
Book Types:
Chapbook, Short story collections, Essay collections, Novel, Poetry collections
Publishes Through Contests Only:
Accepts Unsolicited Submissions:
Accepts Simultaneous Submissions:
Editorial Focus
Papeachu Press is a small feminist book publisher for female, nonbinary, and genderqueer creators. They publish both chapbooks and full-length collections of poetry, short fiction, and literary nonfiction, as well as a bi-annual anthology, Papeachu Review. Their aim is to diversify gender respresentation in the literary arts. 
Contact Information
Meg Gray, Co-Editor and Founder
Last updated: Sep 22, 2022