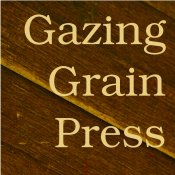 See writers who are published by this small press
Subgenres:
Cross-genre, Experimental, Feminist, LGBTQ Voices, Love, Micro-poetry, Nature/Environmental, Political, Prose Poetry
Publishes Through Contests Only:
Accepts Unsolicited Submissions:
Accepts Simultaneous Submissions:
Editorial Focus
Gazing Grain Press is an inclusive feminist chapbook series edited by alumni of George Mason University's MFA program and sponsored by the Fall for the Book literary festival. We promote and publish feminist work by writers of all genders and sexualities. We publish chapbooks, miniatures, and our blog features book reviews, interviews, and a feminist writing resource database. We believe that inclusive feminism should make available a space for celebrating poetry that comes from a diversity of writerly identities.
Tips From the Editor
We are interested in socially conscious work that explores ideas of identities as connected to gender, sexuality, race and ethnicity, culture, and ability. We adhere to no one "definition" of feminism–we encourage a broad and diverse range of approaches. Challenge us!
Last updated: Jun 13, 2017