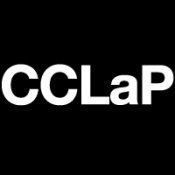 Genres Published:
Fiction, Creative Nonfiction
Publishes Through Contests Only:
Accepts Electronic Submissions:
Accepts Simultaneous Submissions:
Accepts Unsolicited Submissions:
Editorial Focus
OUR APOLOGIES, BUT CCLAP IS CURRENTLY CLOSED FOR SUBMISSIONS UNTIL JANUARY 2017.
Tips From the Editor
Please no poetry or children's/YA stories. Special consideration given to work with unique, memorable themes or characters; authors based in Chicago; and speculative stories in the case of the magazine. CCLaP's editors are mostly former creative writers themselves, so we try to make the submission process as easy as possible: all formats are accepted, no special formatting of your manuscript is required, and a synopsis is not necessary if you don't have one. But that said, we greatly prefer receiving submissions as either Microsoft Word or Open Office files (PDFs are discouraged, but will be accepted if no other format is available); a standard synopsis, bio and query letter are always appreciated; and we prefer reading entire manuscripts rather than sample chapters.
Last updated: Mar 05, 2018