Bryan Allen Fierro, [3] Poets & Writers' Maureen Egen Writer's Exchange [4]fiction winner, blogs about winning the award and his emotional literary journey, which carried him from Alaska to New York City. 
Fierro grew up in the environs of Los Angeles, California—Pico Rivera, Montebello, and Monterey Park. He received his BA in English/Writing from the University of Colorado at Denver, and recently graduated form Pacific University in Oregon with his MFA in Fiction. His thesis "Dodger Blue Will Fill Your Soul" is a collection of short stories that captures the fragile heart of the durable East Los Angeles community. The area serves as the gravity of his storytelling, which searches out both language and culture as a means of preservation. He is currently at work on his first novel, Shangri-LA. Fierro's stories earned him the 2013 Poets & Writers Maureen Egen Writers Exchange Award (WEX) in fiction and a second-place finish in the 2013 Lorian Hemingway Fiction Contest. [5] His stories have appeared in [6]Cooper Nickel [6] [6]and Quarterly West [7]. Bryan lives in Anchorage, Alaska, where he serves his community as a firefighter and paramedic for the Anchorage Fire Department.
"The highest level of consciousness one can attain is to live in a constant state of gratitude." - Unnamed shopkeeper in Molokai gift shop
It has been two months since my visit to New York City to participate as one of the two Maureen Egen Writers Exchange Award (WEX) recipients. The little story that could, "100% Cherokee," finally found a home at Poets and Writers, [8] thanks to the discerning eyes of a talented staff, and ultimately, author Ann Napolitano, a very gentle and soft-spoken soul who—as the final vote for the fiction selection for the State of Alaska—found value in my work. Up to that point, no one had wanted a story about rogue coyotes.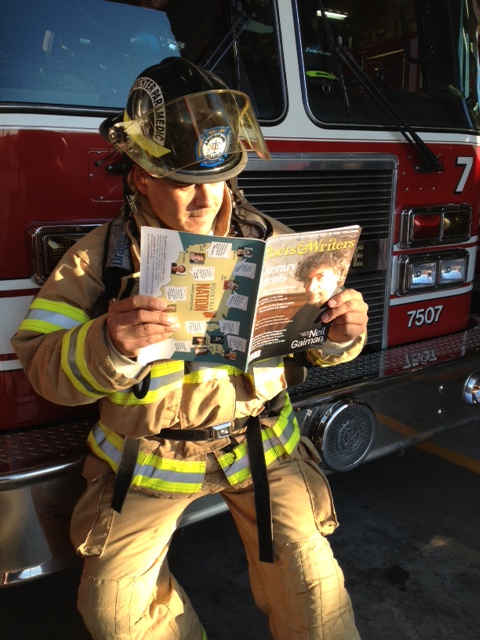 When Bonnie Rose Marcus at Poets and Writers called to inform me that I'd won the WEX award, I was humbled, dumbstruck really. My first thought was to contact my writing mentor, southern poet Jake Adam York—the one person who had forever strengthened my fiction. He taught me to value simplicity and appreciate an exactness in prose that seemed mathematical. He drew shapes on paper and instructed me to write according to their dimensions: a process of circles, oblongs, and trapezoidal narratives. He taught me about Muddy Waters and Thelonious Monk, BBQ, and small batch bourbon. He showed me that we as writers all carry something in us bigger than ourselves—some equivalent of a cross we must bear. For him, writing was a way to express his unflinching dedication to the voice and courage of the martyrs of the Civil Rights Movement.
It had been six years since we last spoke. I wrote an email to him that stated two important points. Number one: I was sorry for not keeping in touch. I had been too embarrassed about not writing more often. That, in addition to a wife with MS and living in Alaska, changed me wholly from the inside out. A new life had burrowed into my previous existence. Number two: I won. I won this magnificent opportunity and I wanted to share it with him more than anyone else in the world. It was only when I searched for Jake Adam York's contact information did I discover that he had died four months earlier. A sudden stroke had robbed him of life and us of words we're incapable of stringing together for ourselves.
There would be no southern, twang-laced congratulations.
I recently unpacked an old box I'd kept in storage for the last five years. Inside was a sealed business letter-sized envelope addressed to the University of North Carolina Admissions Committee—a letter of recommendation for my graduate admittance written by Jake. His signature was scrawled across the envelope's glued seam. The contents inside held his unfettered opinion of me as a writer—and perhaps also as a person. We would be having a conversation after all. But I haven't opened the letter yet. The timing isn't right. I've reserved that singular moment for the first day I sit to write at the Jentel Artist Residency [9] in Wyoming, an additional immeasurable gift from the WEX Award.
I could go on at length about the WEX award. I could tell you about the reading in SoHo in front of an informed and literary audience at McNally-Jackson, or the daily networking that filled me with hope as vital as the air in my lungs. Then there are the friendships I will value for a lifetime. All of these events and new relationships are the easy take away from an award such as this one (which is unique, by the way—there are no other awards quite like this one). Yet I won't go on at length about the importance and depth of the experiences I enjoyed. I will simply end with this: The Maureen Egen Writers Exchange Award has become a fulcrum in my writing life. It pieced together the fragments of my past, while pointing to all the possibilities of my future. I am forever indebted.
Photo: Bryan Allen Fierro. Photo Credit: Dein Bruce
The award is generously supported by Maureen Egen, a member of the Poets & Writers Board of Directors [10]and retired as Deputy Chairman and Publisher of Hachette Book Group USA.