On August 10, 2012, P&W–sponsored poets Wilfredo Borges, Caridad De La Luz [3], and Iya Ibo Mandingo performed at Dances With Wordz: Orisha Poetry in New York City, an event organized by Latinos NYC. Readings/Workshops program intern Nikay Paredes reports.


Dances With Wordz: Orisha Poetry, curated by Latinos NYC founder and CEO Raul K. Rios, featured performances celebrating the Yuroba faith of West Africa. The poets, garbed in white from head to toe, were an immaculate presence inside the Nuyorican Poets Café [4] even before they took the stage. The Nuyorican has long been a venue and community for artists looking to elevate poetry, music, comedy, theatre, and the visual arts in a diverse, multicultural environment.

Dances With Wordz began with an open mic dedicated to the faith. Poet-nomad Wilfredo "Baba" Borges blessed the audience with a prayer-song. He spoke of ancestries, mothers and fathers, exclaiming proudly: "Where I'm from is a land of defiance, not defeat." Poetry performances were complemented by song and dance, including a drumming performance by batá group Conjunto Oba Ire. The batá or Yoruba drum, they explained to the audience, is inhabited by Orisha or guardian spirits of the Yoruba faith.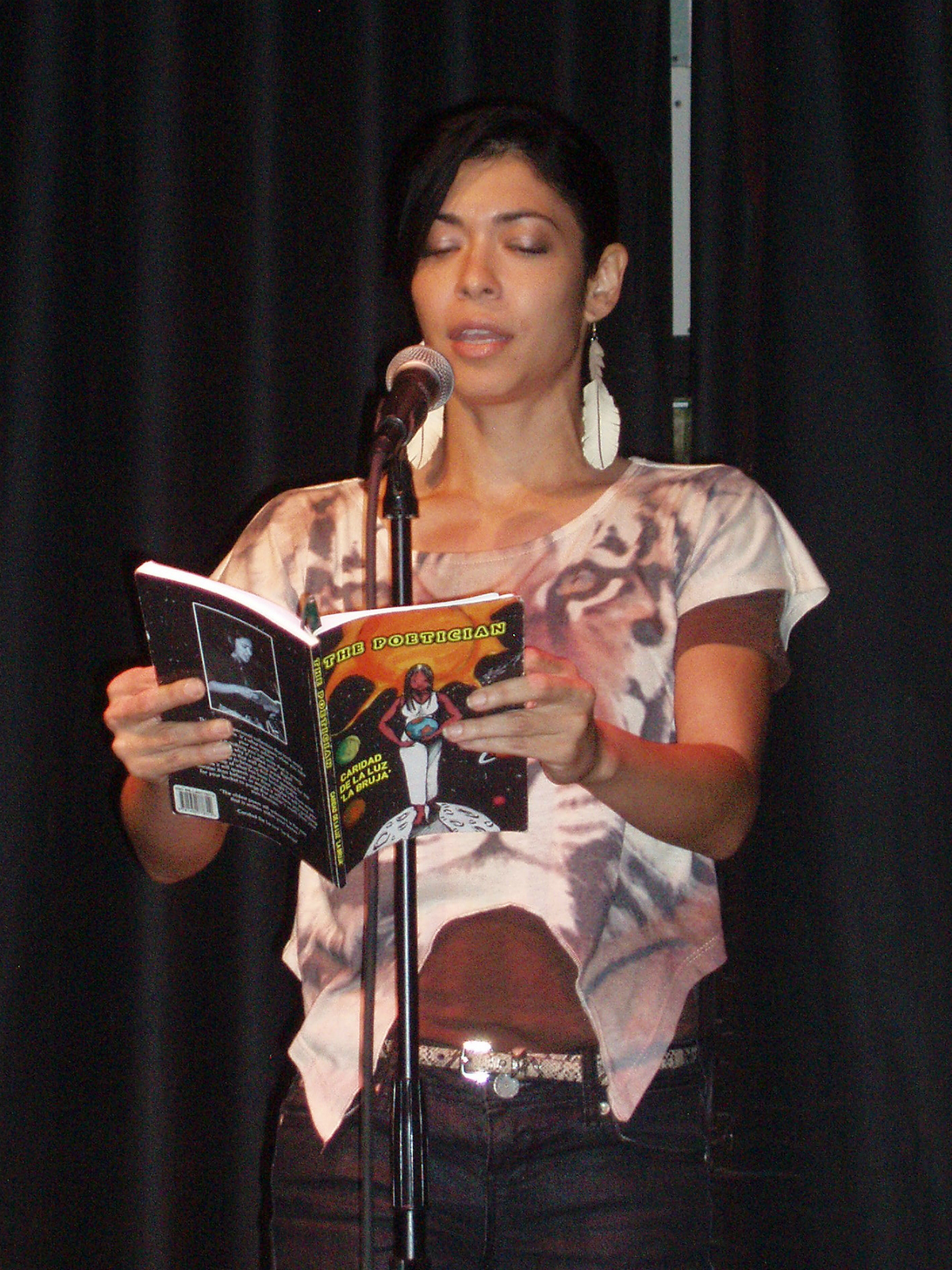 Nuyorican darling Caridad "La Bruja" De La Luz read from her first collection, The Poetician, then proceeded to rap and sing after reciting what she fondly called "straight up poetry." Writer, actor, and painter Iya Ibo Mandingo performed last, conjuring images of home: luscious mangoes and coconuts. He ended his performance with a declarative poem, inciting reactions from the audience, which ranged from the gleeful to the guttural. 

Raul K. Rios closed the reading with these apt words: "Don't praise behind closed doors. Let the conversation exist." Rios, through Latinos NYC, aims to transform drug-ridden communities in New York City with feeding programs, clothing drives, and poetry readings.

He thanked P&W for helping him with the transformation: "Having Poets & Writers on our side every year means Latinos NYC can put on a better event and compensate the poets for their time and talent."
Photos: (Top) Wildfredo "Baba" Borges. (Bottom) Caridad "La Bruja" De La Luz. Credit: Nikay Paredes.
Support for Readings/Workshops in New York City is provided, in part, by public funds from the New York State Council on the Arts [5], and the New York City Department of Cultural Affairs [6], with additional support from the Louis & Anne Abrons Foundation, the Axe-Houghton Foundation, the A.K. Starr Charitable Trust, and the Friends of Poets & Writers [7].