Rochelle Spencer [3] teaches at LaGuardia Community College [4] in Queens, New York and is the author of  the ebook, Ella Jones and Her Magical Vagina. Rochelle blogs about the P&W sponsored reading with Jina Ortiz at LaGuardia Community College [4].

When I was interviewing the poet Sharan Strange for an article "Dark Room Redux," published in the July /August issue of Poets & Writers Magazine [5], Strange described her work as a founding member of the Dark Room Collective (DRC), a reading series that brought several established writers (Derek Walcott, Alice Walker, and many others) to the Boston area. Strange's statements about the host's responsibility to visiting writers really stuck out: "The DRC readings were serious and professional, but we didn't have a budget or formal funding. Everything we did, we paid for out of our pockets. Still, they came off well, and we made sure our guests would be comfortable.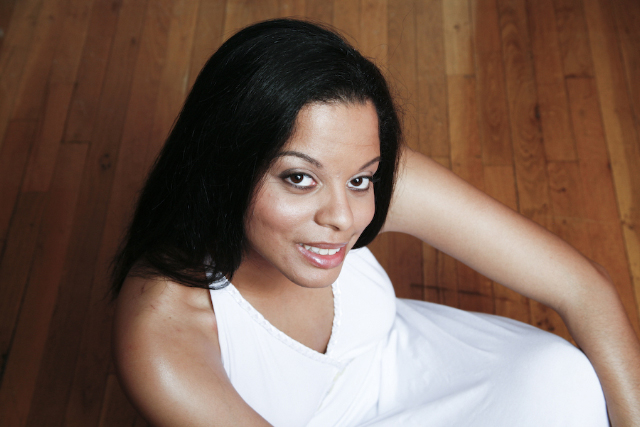 The amazing work of the DRC--those young, energetic college students who held early readings in their own home, which included a photographer's dark room--starts, I think, with one idea: when you're giving an event, how do you make the writers feel comfortable?
Perhaps it starts with anticipating the authors' needs.  When I brought Jina Ortiz, an Afro-Latino poet based in Massachusetts, to LaGuardia Community College [4]in Long Island City, Queens, this past March for our Women's Heritage Month celebration, Poets & Writers [5] provided the first step in making Jina feel comfortable: the honorarium they supplemented let Jina know that both her time and talent were appreciated. 
Christopher Alexander and Kristen Gallagher, two of my colleagues at LaGuardia Community College [4], also added to Jina's comfort level by making sure that Jina's poems had been well-circulated and read by the members of the Creative Writing Club. I had emailed students  and aspiring writers in the community prior to the event to make sure that they knew a published writer would be visiting our campus. 
Public speaking is never easy. Plus, the amount of time authors spend preparing for these events (Jina, for instance, said she had spent a great deal of time preparing for the reading by reading aloud at home and carefully selecting poems to read that would "build a cohesive narrative" or "build upon one image or idea") means that we as hosts have a responsibility to make the readings as pleasant and memorable for the writer as we possibly can. 
Obviously, we can't recreate the groundbreaking work of th DRC, but I believe we can still, in our own communities, enable the kinds of conversations with writers that make our lives richer and all the more meaningful.
Photo:  Jina Ortiz.   Photo Credit: Anjali Bhargava

Support for Readings/Workshops [6]in NewYork City is provided, in part, by public funds from the New York State Council on the Arts, [7] and the Department of Cultural Affairs [8], with additional support from the Louis & Anne Abrons Foundation [9], the Axe-Houghton Foundation, the A.K. Starr Charitable Trust, and the Friends of Poets & Writers [10].