Gulf Coast literary journal recently presented three P&W–sponsored writers, Laurie Clements Lambeth, Justin Sirois, and Andrew Porter, at the Houston Indie Book Festival. Festival co-organizer Ryan Call describes the event.

In April, an assortment of writers and readers gathered on the lawn of The Menil Collection [3] in Houston, Texas, to participate in the third annual Houston Indie Book Festival [4]. The festival features a variety of exhibitors, from nationally distributed literary journals to small presses, as well as local booksellers, literary organizations, and writers. In addition to hosting exhibitors, the festival also had a children's area, a couple publishing panels, and several Readings/Workshops [5]–sponsored writers who read for the audience throughout the day.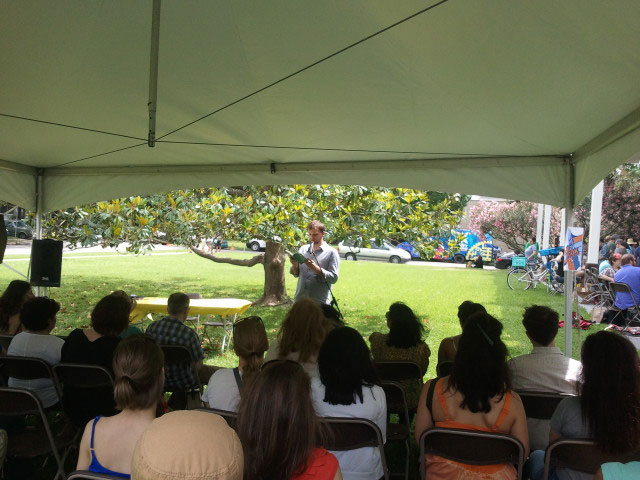 As one of the festival co-organizers, I had the opportunity to invite a few authors to visit the festival, and I tried to present authors who seemed to support the mission of the festival: to celebrate small press literature.

This year we had Laurie Clements Lambeth, Justin Sirois, and Andrew Porter read, and I was so pleased with both their readings and the audience attendance. Lambeth, a Houston-area poet, read from her poetry collection Veil and Burn and also from a batch of new poems from her next collection, titled Bright Pane. Justin Sirois, who traveled all the way to Houston from Baltimore as part of his latest book tour, read from his new novel, Falcons on the Floor, a book about the Iraq war. And Andrew Porter ended the day's readings with a preview of his forthcoming novel—which is set in Houston—as well as a short Q&A about his writing and publishing.

All of these authors in some way, I believe, contribute to the idea that small press publishing, reading, and writing can and do thrive when given the chance, when a community of readers is present, and when organizations such as Poets & Writers, Inprint [6], and The Menil Collection collaborate to support such writers and their efforts.
Photo: Festival-goers watch Andrew Porter read. Credit: Ryan Call.

Support for Readings/Workshops events in Houston is provided by an endowment established with generous contributions from the Poets & Writers Board of Directors [7] and others. Additional support comes from the Friends of Poets & Writers [8].