dsc_9958.jpg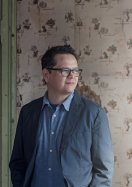 Listed as:
Fiction Writer
5250 Shepherd Road
Dept. of Arts and Humanities
Springfield,
IL
62796
How do you want to identify yourself?:
With whom do you prefer to work?:
In which languages are you fluent?:
Are you interested in giving readings?:
Are you willing to travel to give readings?:
Prizes Won:
His collection The House of Order: Stories was named an International Latino Book Award Finalist and in 2013 Latino Boom: An Anthology of U.S. Latino Literature listed Jaramillo as one of its Top 10 New Latino Authors to Watch and Read.
link 0, location and date:
State Journal Register Springfield, Illinois
What I'm Reading Now, Book 1:
What I'm Reading Now, Book 2:
What I'm Reading Now, Book 3:
work_excerpt:
Little Mocos chapter 1 excerpt--animales: Tio Neto sat on the bed shirtless and hungover, shaking his balding head at the reality of missing his father's funeral service. He raised both arms to smell his pits and started digging into his jeans for a comb. "There's a lot of the old folks waiting on you upstairs," I told him. When he saw who it was, Neto stood up and kicked off his sneakers, coughed and spat at the basement's concrete floor. He dropped his soiled pants and rolled up in the sheets. "You the only Ortiz worth a damn left alive in this neighborhood," Neto said. His clothes were in two great big garbage bags, and he stayed still a minute as I dragged his only collared shirt out from under his stash of nudie magazines and fungus-looking weed. I put Neto's clothes down deep in the washing machine and asked out loud about the whereabouts of my own father. "Listen to what I say. I can tell you this, boy," Neto lectured before collapsing back down. "Born into this world alone and die alone. Family will leave you. Women will leave you. All you have is your own damned self."