For the month of October, longtime P&W-supported writer M. L. Liebler [3], author of fourteen books of poetry including The Moon A Box, which received the 2005 Patterson Poetry Award of Excellence, blogs about the literary arts scene in Detroit, Michigan.
It's Alive!!! From the early days of Robert Hayden in Paradise Valley to the new slam poets at the annual urban street festival, Dally in the Alley [4], being a writer in Detroit has always been a struggle. Motown writers have survived it all with the generosity of organizations like Poets & Writers (P&W). Since the early 1990s, P&W has helped our city's literary arts scene sustain diverse programming through near-crippling recessions, anti-arts funding governors, Tea Party naysayers, unemployment, and the general hard times of the auto industry.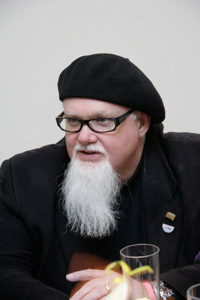 The Detroit poetry scene started to gain recognition among nontraditional audiences in 1987. Shortly thereafter, P&W expanded to the city to further stimulate the funding culture and help local arts organizations such as the National Writer's Voice Project, Terry Blackhawk's school-aged InsideOut Literary Arts Project [5], John D. Lamb's Springfed Arts [6], and the Detroit Public Library [7] leverage dollars for more literary programming. The support allowed Detroit's struggling literary arts organizations, libraries, colleges, churches, and small reading series at galleries and coffeehouses to host writers with dignity by allowing venues to offer writers monetary compensation.
Some of Detroit's unique literary programs that I have been fortunate to direct and host over the years include the annual Lit Fest-on-the-Lawn at the Detroit Festival for the Arts [8], readings at the Detroit Opera House [9], The Scarab Club [10] Downtown/Uptown Series, the monthly Detroit Tonight Live at the Music Hall [11], and the now legendary Annual Labor Poets Program. Our 2010 P&W-supported Annual Labor Poetry Program brought together suburbanites, urban residents, high-school and college students, professors, and union members. This has become the typical audience demographics in Detroit for the last several decades.
Writers from around the country who visit Detroit for readings, workshops, or signings quickly become aware of Detroit's supportive and dynamic literary scene. I have heard writers say they want to "move here to write and work." In fact, some have: John Berryman, W. D. Snodgrass, Eugene Redmond—heck even Joni Mitchell lived and wrote some of her classic songs on Wayne State University's [12] campus in the mid-1960s.
In the poetry and lit biz, Detroit is where it's at. From the Wayne State University Press's [13] long-running Made in Michigan Book Series to the local open mic down the street, Detroit is a literary arts oasis in these trying times. We are, indeed, Alive!!! Come see about us.
Photo: M. L. Liebler.

Support for Readings/Workshops [14] events in Detroit, is provided by an endowment established with generous contributions from the Poets & Writers Board of Directors [15] and others. Additional support comes from the Friends of Poets & Writers [16].