Writer Patricia Roth Schwartz blogs about facilitating a memoir writing workshop series in historic Seneca Falls, New York.
It's a beautiful spring day in historic Seneca Falls. We meet in the town Recreation Center, a low brick building on the canal, which connects to the Erie, where lazy houseboats drift by on the gentle green waters dotted with ducks and waterfowl. The room we have has one enormous windowed wall. Four participants, two middle-aged and two seniors, regulars at most of the literary programs held locally, have gathered.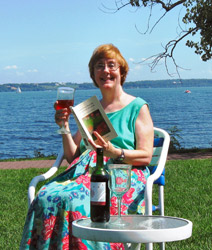 We plunge into our topic: "Telling the Stories of our Lives: Writing the Personal Memoir." After some discussion, we start an exercise. Following the guided visualization, everyone is asked to write from a childhood memory. As we're beginning, a woman and her twelve-year-old daughter join us, apologizing for their lateness. I initiate introductions, settle the latecomers into chairs, bring them briefly up to speed, then encourage them both to start writing. The mother goes ahead, but the girl just sits, looking scared and confused. We'd advertised the workshop to all ages, but she's the only youngster. Her mother said she loves to write, but right now I know exactly how she's feeling, afraid of embarrassing herself, of doing it "wrong."
My background as a psychotherapist jumps into play. "I'll help you," I say, and hunker down beside her. "Who were you thinking of?" "My granddad," she whispers. "Okay—great. Can you write him a letter, telling him what you remember?" She thinks about it. "Yes!" Her pen leaps to the page. "Good—good—keep going," I say. "Put in a lot of details, like you were looking at it in a movie."
Before we knew it, everyone, including the girl, has completed a piece. One by one the writers read aloud. When it's her turn, the girl is pleased with and excited by her letter. She shares it willingly, how her granddad would hoist her up on his shoulders when she was really little and carry her around. The group loves it and tells her as much.
"Okay," I finish. "Now when you go home, write it up really nicely and mail it to him!" The young girl beams.
Photo: Patricia Roth Schwartz. Credit: Sandy Zohari.
Support for the Reading/Workshops [3] in New York is provided, in part, by public funds from the New York State Council on the Arts [4], with additional support from the Friends of Poets & Writers [5].