Listed as:
Fiction Writer
gregcigar1crop.gif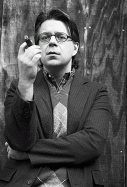 With whom do you prefer to work?:
In which languages are you fluent?:
Are you interested in giving readings?:
Are you willing to travel to give readings?:
Prizes Won:
Back in high school, I lost "Most Likely to Succeed" by one vote to my good friend Michael "F" Huening -- I voted for him and he voted for himself.
What I'm Reading Now, Book 1:
What I'm Reading Now, Book 2:
What I'm Reading Now, Book 3:
What I'm Reading Now, Book 4:
What I'm Reading Now, Book 5: