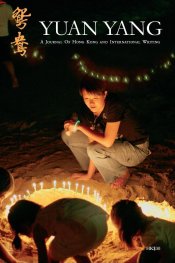 Genres Published:
Poetry, Fiction, Creative Nonfiction
Accepts Electronic Submissions:
Accepts Simultaneous Submissions:
Accepts Unsolicited Submissions:
Editorial Focus
Yuan Yang: A Journal of Hong Kong and International Writing is a literary journal hosted by the School of English at The University of Hong Kong. Each year it seeks stories, poems, creative nonfiction, or plays by writers in Hong Kong and throughout the world. The journal has a special focus on the work of emerging writers in Hong Kong and overseas.
Tips From the Editor
Please read our Guidelines for Submission carefully. Remember to include a Cover Page and to remove the author's name from the manuscript. Manuscripts will not be returned.
Contact Information
School of English, The University of Hong Kong
Last updated: Feb 17, 2017