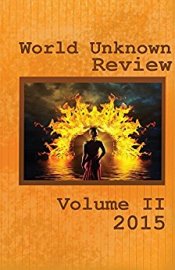 Genres Published:
Poetry, Fiction, Creative Nonfiction
Accepts Electronic Submissions:
Accepts Simultaneous Submissions:
Accepts Unsolicited Submissions:
Editorial Focus
The World Unknown Review is an annual literary journal focused on publishing just really good stories (and one novella a year) from around the world. Our focus is on variety: there should be something for everyone in each volume. We pay a modest compensation of $15 USD with contributor's copy, and we also promote our authors throughout the year with special features and interviews.
Tips From the Editor
There are no word count or genre restrictions, except that anything over 17,500 will automatically be regarded as a novella.  We do tend to trend heavily on speculative fiction with submissions, so work that is outside of those usually has a better chance, since we do strive for a little bit of everything.  Proper formatting is appreciated, but not required, and please do not send PDF files.
Last updated: Jun 14, 2017