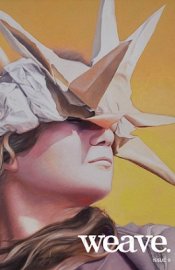 Genres Published:
Poetry, Fiction, Creative Nonfiction
Accepts Electronic Submissions:
Accepts Simultaneous Submissions:
Accepts Unsolicited Submissions:
Editorial Focus
Weave is a literary organization and print publication located in Pittsburgh, PA. We seek to create a space for a cross-section of writers and artists to meet on the page, on the stage, and in workshop. We celebrate diversity in both the creator and their works and strive to showcase both novice and established writers and artists.
Tips From the Editor
Weave is dark humor and magical realism. Weave is strange and fantastical. Weave loves strong, well-developed characters, especially female characters. Weave loves retellings, fairy tales and myths. Weave is the universal told with unique, exciting language. Weave loves a poem that grabs our attention early and avoids clichés. Weave loves surprises. 
Last updated: Feb 17, 2017