See writers who are published in this journal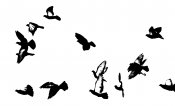 Genres Published:
Poetry, Fiction, Creative Nonfiction
Accepts Electronic Submissions:
Accepts Simultaneous Submissions:
Accepts Unsolicited Submissions:
Editorial Focus
Visitants pop up throughout literature as ghosts, as fits of madness, and as omens. In nature, a visitant takes on a different meaning: a migratory bird that has come to a place temporarily; a cicada that rises from the soil every 17 years. Here at Visitant, we have created a space where you and your temporary visitors—your stories, your art—might rest, grow stronger, and be shared. Send us your work! https://visitantlit.com/contact
Tips From the Editor
We are accepting submissions of flash fiction, serialized fiction, non-fiction essays, multimedia essays, poetry, art, and interviews. Submissions should be limited to 1,500 words. If you are interested in submitting a longer piece, we may still be able to publish it in serialized format (please see this example: https://visitantlit.com/2016/06/21/a-coven-in-essex-county-part-1). Please send all submissions to visitantlit AT gmail DOT com. Please attach your submission as a Word document and include a short biographical statement in the body of your email.
Last updated: Feb 17, 2017