See writers who are published in this journal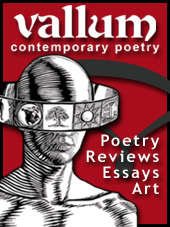 Accepts Unsolicited Submissions:
Accepts Simultaneous Submissions:
Editorial Focus
Vallum is interested in original and previously unpublished work. Ideal submissions are well-crafted, fresh, and edgy. Open to most styles, whether experimental or traditional—though issues are usually put together with an underlying theme in mind, so not all poetry can be accepted, even if it is genius! Please do not submit unsolicited chapbook manuscripts or artwork. No simultaneous submissions. Essay and review submissions must follow North American, MLA Style guidelines. Vallum acquires First North American Serial Rights.
Contact Information
Leigh Kotsilidis, Managing Editor
Last updated: Feb 24, 2022