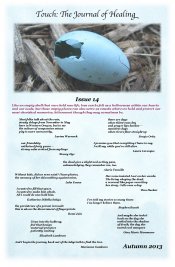 Genres Published:
Poetry, Fiction, Creative Nonfiction
Accepts Electronic Submissions:
Accepts Simultaneous Submissions:
Accepts Unsolicited Submissions:
Editorial Focus
Touch: The Journal of Healing promotes poetry and prose from around the world that speaks of the physical, the emotional, and the universal, spiritual touch of humanity.
Tips From the Editor
Please read our Submission Guidelines and selections of our journal before submitting. Please do not send poetry & prose submissions as attachments.
Contact Information
O.P.W. Fredericks, Editor / Publisher
Last updated: Feb 17, 2017